Updated, 11th Sept. 2019
Tribhuvan University, Faculty of Management, Examination Controller Division has published the results of Central Management Admission Test (CMAT) 2019.
Students can check their CMAT Score 2019 online here.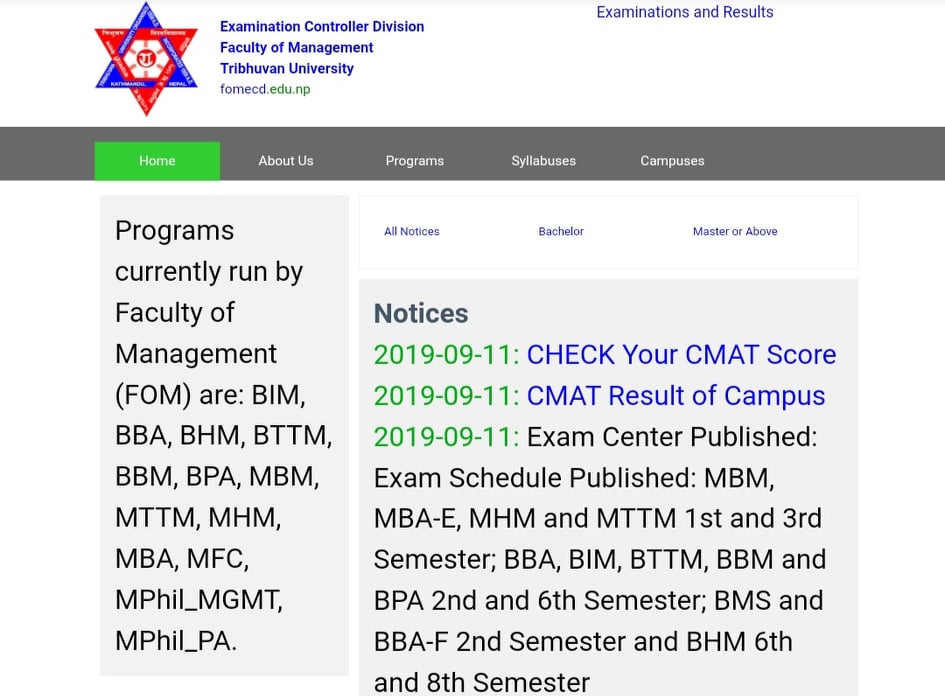 The CMAT entrance examination was held on Bhadra 21, 2076 for the enrollment in the following subjects:

Previous Notice
Update 3rd Sept 2019
Faculty of Management today publishes the examination centers for CMAT Examination. CMAT exam will be held on Bhadra 21, 2076 from 8 AM on wards.
Download:
CMAT Center Notice from Tribhuvan University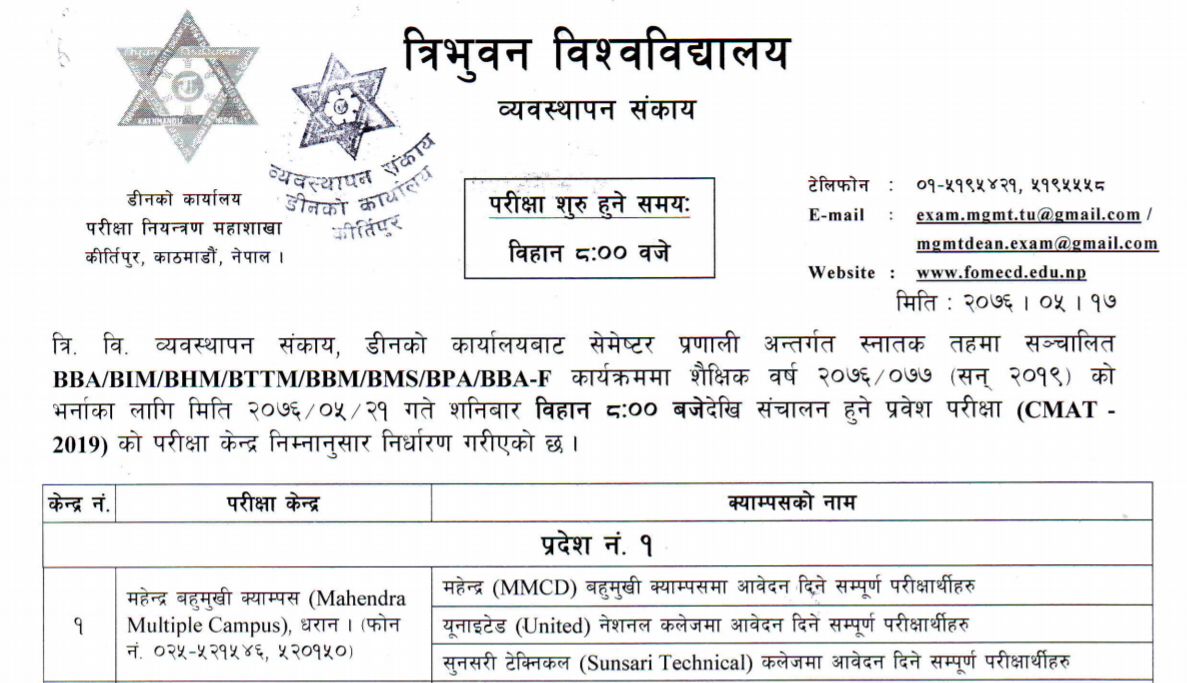 TRIBHUVAN UNIVERSITY Faculty of Management
Office of the Dean
ANNOUNCES Central Management Admission Test (CMAT) for the admission to:
Bachelor of Business Administration (BBA) / Bachelor of Business Management (BBM)/ Bachelor of Information Management (BIM) / Bachelor of Public Administration (BPA)/ Bachelor of Hotel Management (BHM) / Bachelor of Travel and Tourism Management (BTTM) / Bachelor of Business Administration - Finance (BBA - F) and Bachelor of Mountaineering Studies (BMS) programs for the admission year 2076 (2019).
ELIGIBILITY:
Minimum D+ grade in each subject of grade 11 and 12 with CGPA 1.8 or more

Or
Minimum score of second division marks in 10+2, PCL or Equivalent in any discipline.
Or
Students who have passed grade 11 and are waiting for grade 12 results can also apply. However, they have to submit passed certificate of grade 12 at the time of admission.

ADMISSION SCHEDULE
CMAT Application Form : July 26 - August 28, 2019 (Shrawan 10 - Bhadra 11, 2076)
Date of Admission Test (to all programmes) : September 07, 2019 (Bhadra 21, 2076) - Saturday Time: : 8:00 AM
Test Center and other details : To be notified by the FoM to the respective campuses submitting CMAT form or Visit FOM website.
Downloads
Bachelor CMAT Notice, CMAT Form, Process and Procedure with Format of application detail to submit FOM

Notes:
The Details of Admission procedures, criteria and selection process is available at FOM website www.fomecd.edu.np and www.tudoms.org
Application (CMAT) form is available at the FOM website www.fomecd.edu.np or www.tudoms.org
Application (CMAT) form is to be submitted in any campus offering respective programmes by paying Rs 1,000 (Rs one thousand only).
Contact the respective campuses/colleges or visit FOM website for further information.
The concerned campus / colleges should submit the details of the applicants in the prescribed format by 11:00 AM, 30 August 2019 (Bhadra 13, 2076) through [email protected]