Update September 17 - Tribhuvan University has published the entrance result of B.Sc. Computer Science and Information Technology (B.SC. CSIT) for the academic year 2076. The entrance examination of B.Sc CSIT program was held on Bhadra 27, 2076. Download the file to view the entrance exam result.
Downloads:

TU B.Sc CSIT Entrance Exam Result 2076
The classes of B.Sc CSIT will commence from Kartik Last week, 2076 and the examination of the first semester will be held on Chaitra, 2076. Find the colleges that offer B.Sc CSIT program here.

Details in the official notice below: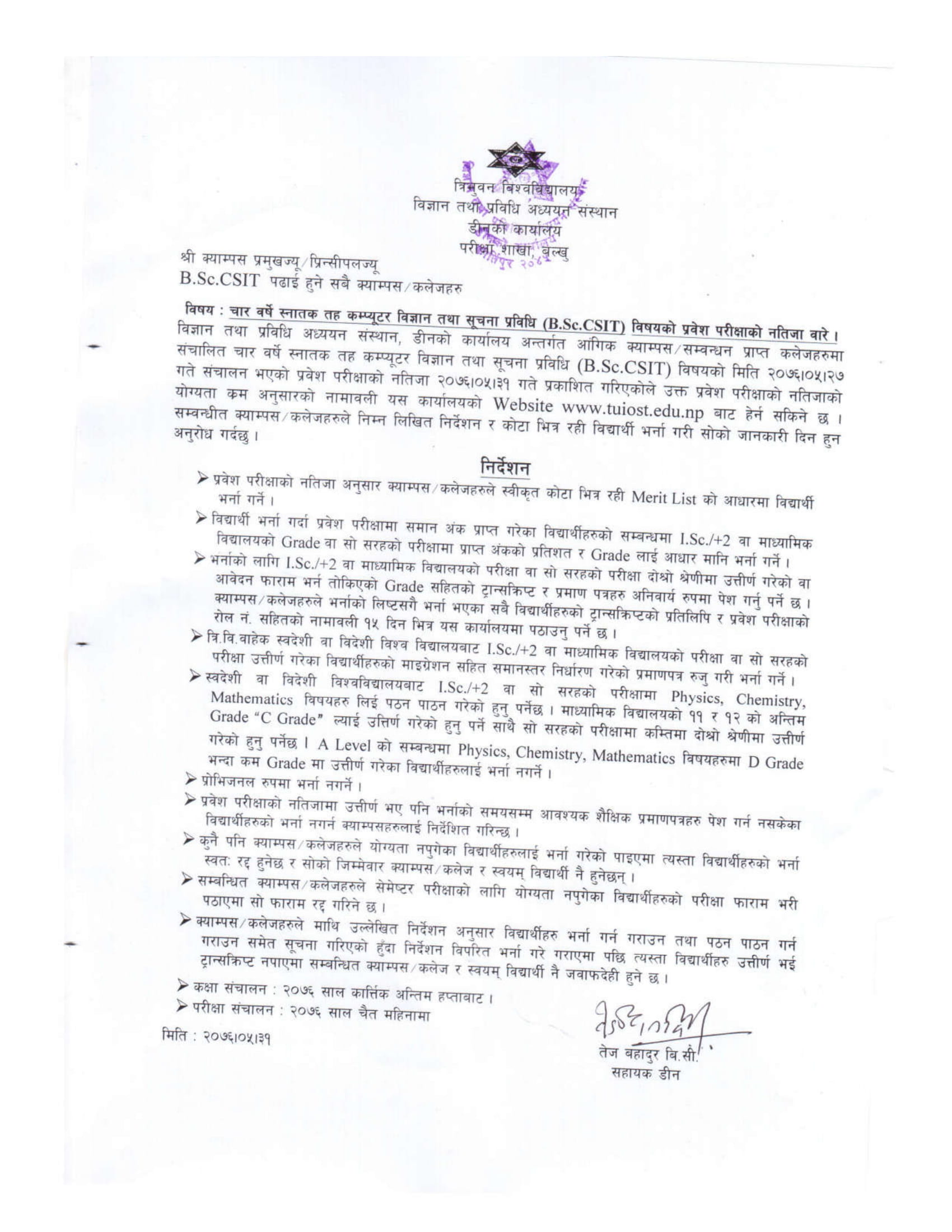 B.Sc CSIT Entrance examination center notice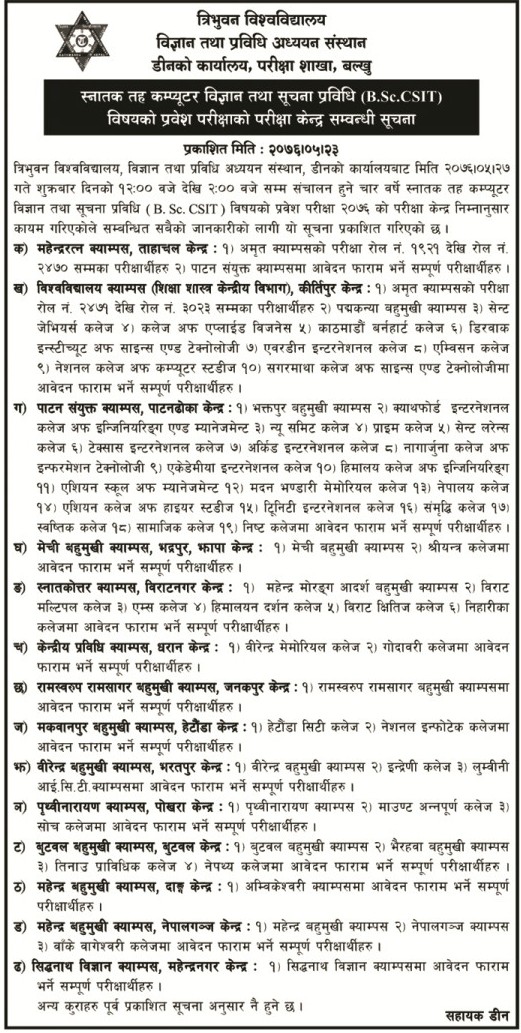 Tribhuvan University notifies regarding the minimum eligibility criteria to enroll in 4 Years Bachelors of Computer Science and Information Technology (B.Sc CSIT) program.
Students who have secured C grade or lower in any one or two subjects participating in Grade Improvement Examination will be eligible to fill the application form for entrance examination.
Examinee who failed to secure C grade in Grade Improvement Examination won't be able to get admitted.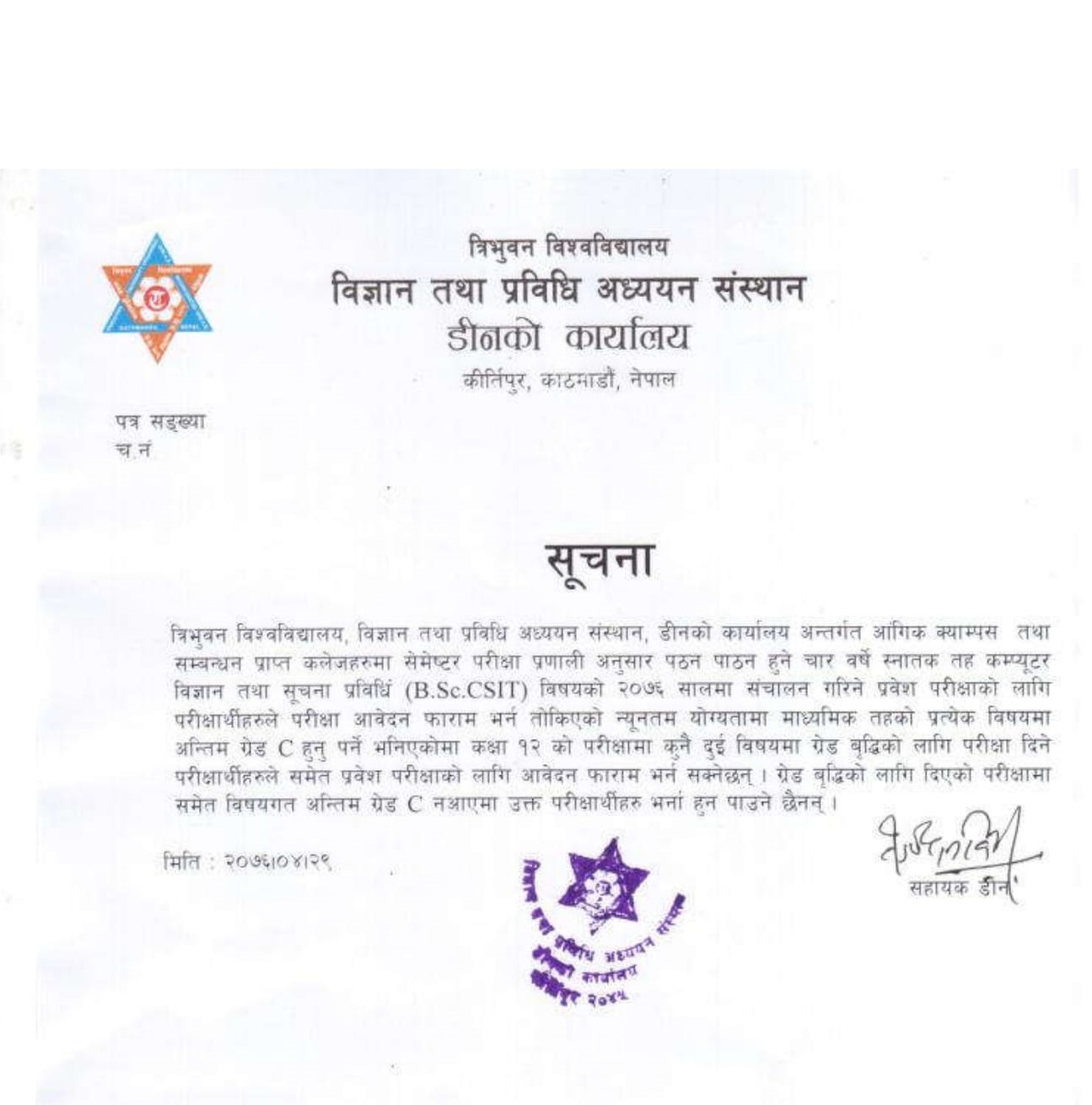 PREVIOUS NOTICE
Tribhuvan University, Institute of Science and Technology (IOST), has published the entrance examination centers of 4 Years Bachelors of Computer Science and Information Technology (B.Sc CSIT).
Application form Free and Entrance Examination Fee: Rs. 1500/-
Key Dates:
Application form Deadline : Bhadra 9, 2076
With Double Fees : Bhadra 16, 2076
Examination Date : Bhaadra 27, 2076
Examination Time: 12:00 PM to 2: 00 PM
Downloads:
Examination Centers will be decided later.

Find details in the notice below: