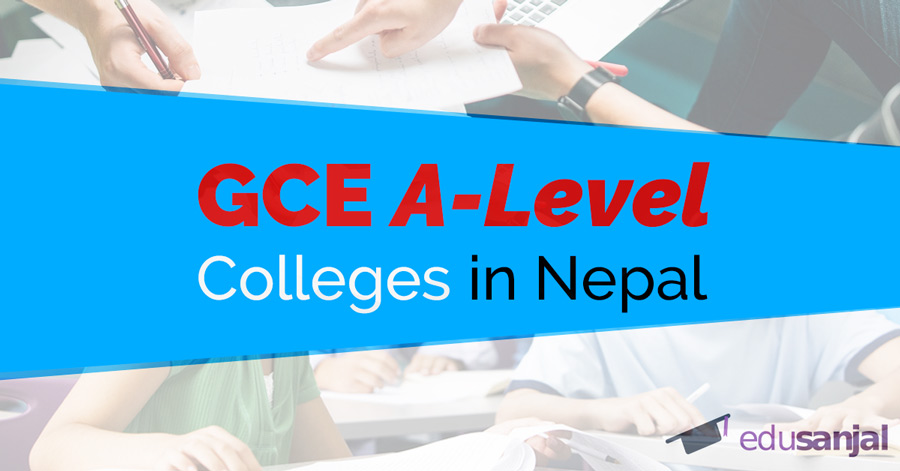 The General Certificate of Education (GCE) 'AS' and 'A' Levels, running under the Cambridge Assessment International Examination (CAIE) of Cambridge University, is one of the most recognized qualifications as secondary level education globally.
The flexibility of stream choice, gold standard academic curriculum, and worldwide recognition has made GCE 'A' Level one of the most sought out courses in the globe. Today Cambridge GCE 'A' Level is being taught in more than 160 countries with a variety of 55 subjects divided as science and non-science.
The course is usually studied over a two year period as an Advanced Subsidiary (AS) level and Advanced (A or A2) level. 'A' Level is equivalent to the Secondary (10+2) / the two-year Intermediate level studies or PCL/Diploma Level in Nepal. With the completion of the course, students can enroll in medical/ engineering Colleges or pursue higher education in Management, IT, Pure Sciences or Social Sciences.
The syllabi and examination are set by the University of Cambridge and the papers are corrected in the UK by approved markers.
The course is offered in two streams (Click the link to view the details). They are:
The Science stream consists of Physical Group (with Core subjects Physics, Chemistry and Mathematics), and Biological Group (with Core subjects Physics, Chemistry and Biology). Similarly, the Non-Science stream is bifurcated into Management Group (with Core Subjects Accounting, Business and Economics) and Humanities Group (with core subjects Economics, Sociology and Psychology).
Apart from these core papers all students are required to give the examination of English (General Paper). Students can also choose one course according to their interest. The elective courses include but not limited to Computing, Mathematics, Art and Design, English Language, Environmental Management, etc.
Eligibility:

Students who have completed SEE/ O level/ CBSE/ IGCSE or equivalent are eligible to study Cambridge GCE 'A' Level.
Admission Intake: Generally during the month of April/ May
The Colleges that offers A Level program in Nepal are:
Budhanilkantha School located at breathtaking panorama of the capital, Kathmandu, is the government designated 'National School' of Nepal. The School is a fully residential English medium school that offers classes from grade 5 to 12, including the Advanced Level of Cambridge University, UK.
Apart from high academic standards Budhanilkantha School also imparts multi-dimensional skills and leadership qualities through an array of sports and extracurricular activities.
(View Details)
2. Chelsea International Academy
Established in 2005 A.D, Chelsea International Academy offers GCE A level Non-Science and Science. Located at Baneshwor, Kathmandu, Chelsea provides good and affordable practical education to support and create various opportunities to enhance the personal growth of the students.
The institute strives to exceed its students' expectations in their learning process and provide value-added services to help them in their future careers.
(View Details)
3. Gandaki Boarding School (GBS)

Formerly known as Nepal Adarsha Bidhalaya, Gandaki Boarding School located at Lamachaur, Pokhara is one of the best school of Nepal. The School was established on 11th June 1966 as a result of the initiation of three groups namely the United Mission to Nepal, the Shining Hospital and the Local Community, with an aim to impart quality education. Gandaki School offers classes from Nursery to Grade 12 (Science) including GCE 'A' Level.
(View Details)
4. Global College International : A Levels
Located at Mid- Baneshwor, Kathmandu, Global College International (GCI)- A Levels is one of the top colleges that runs the Cambridge A-level on a frame of international curriculum. GCI 'A' Levels prepares the students as Cambridge Learners, who are confident, responsible, reflective, innovative and engaged - equipped for success in the modern world.
The A Level programs at GCI are run with consistently updated syllabus delivered in latest models of student-centered interactive pedagogy as advanced by Cambridge University.
(View Details)
5. Kathmandu University High School (KUHS)
Kathmandu University High School (KUHS), initially named as Kathmandu University Preparatory School was established in 1998 A.D. The school is located in the peace environment of Chaukot, Banepa in Kavrepalanchok district. The School always has been a non-profit making organization established under the umbrella of Kathmandu University and since 2009 A.D its started offering 'A' Level programs under University of Cambridge International Examinations.
(View Details)
6. NAMI College
Naaya Aayam Multi-Disciplinary Institute (NAMI) College is one of top college operating in Nepal. The College was established with a view to contribute to the social and economic growth of Nepal through the established of a center of excellence for education.

NAMI College offers various subject combinations for GCE 'A' Level students to fulfill the requirements and to prepare students for university studies such as Science, Medicine, Engineering, Business and liberal arts. The college is introducing Photography subject for the first time in Nepal for interested students.
(View Details)
Located on Subarna Shamsher Marg in Baluwatar, in the heart of Kathmandu, Malpi Institute provides student-centered education. In a short period, this College, a part of the Malpi Group of Educational Institutions, has already earned a reputation for excellence in education.

At present, Malpi offers the two-year General Certificate of Education (CIE), i.e., the A-Levels accredited by the University of Cambridge, UK.
Orient College established in 2003, is ideally located in a peaceful and academic environment at Bansbari, Kathmandu. The College has been a popular academic institution among students and parents in a very short interval of time.
In nine years journey Orient College possess a luminous history of glory and achievement in terms of overall performance. Orient has been running GCE 'A' Level programs in international standard in its separate "A Level Block".
(View Details)
Established in the year 1992, Rato Banagla School is located at Patan Dhoka, Lalitpur. The school offers a student-centered education with up-to-date teaching methods, good facilities and trained teachers. Rato Banagla School offers both GCE 'A' level Science and Non-Science programs under Cambridge Assessment International Education.
(View Details)
St. Xaviers College one of the popular academic institution of Nepal was established and managed by the Nepal Jesuit Society in 1988 AD. Currently St. Xaviers College offers 14 different programs including Ten Plus Two Program in Science and 'A'Level program (Non-Science and Science).
St.Xavier's College promotes constructive student-teacher contact and encourages students to develop their full potential for leadership.
(View Details)
Click here to find the full list of Schools/Colleges that offer 'A' Level program.