National Examination Board (NEB) is in the final preparation of publishing the results of Secondary Education Examination (SEE) 2075/76. According to the official sources, the result of the SEE examination will be published soon.
Check out this link to know the all the recent updates:
NEB has also published the list of websites and shortcodes for SMS by which students can check their SEE Examination Result.
The SEE examination was held from Chaitra 11, 2075 to Chaitra 21, 2075 (April 24, 2019) in all six provinces of Nepal except Province No. 2. On province two, it was held on was held from Chaitra 22, 2075 (April 05, 2019) to Chaitra 29, 2075 (April 12, 2019). Four lakhs, seventy-five thousand and three students participated in the examination from all over the country.
Follow us on Facebook and Twitter to know the latest updates.
Here is how you can check your SEE result 2075/76:
View SEE Result 2075/76 Online Via Websites:
You can check the result on https://see.edusanjal.com/ at free of cost.
Here is the list of organization and their websites that will be publishing SEE Result 2075/76:
Edusanjal - https://see.edusanjal.com/
Ministry of Education, Science, and Technology - moest.gov.np
Department of Education - doe.gov.np
National Examination Board - neb.gov.np
Nepal Telecom - see.ntc.net.np
Office of Controller of Examination - see.gov.np
Ncell - ncell.axiata.com
Apart from these websites, you can also check your results from various other websites.
View SEE Result via SMS/IVR:
You can also check SEE Result 2075/76 via SMS/IVR. For this, you have to send an SMS via your mobile phone to one of the following numbers by typing SEE (Space) Symbol No.
Nepal Telecom - 1600 (For both SMS and IVR)
Ncell - 1600 (For SMS Service)
There are many SMS service providers other than NTC and Ncell.
Grading System of SEE Result:
Previously the result of SEE used to be published in Percentage but since 2016 A.D. Examination Controller Division has introduced the letter grading system for the SEE Result.
Below is the comparison chart which will make you clear about grades and GPA of SEE result: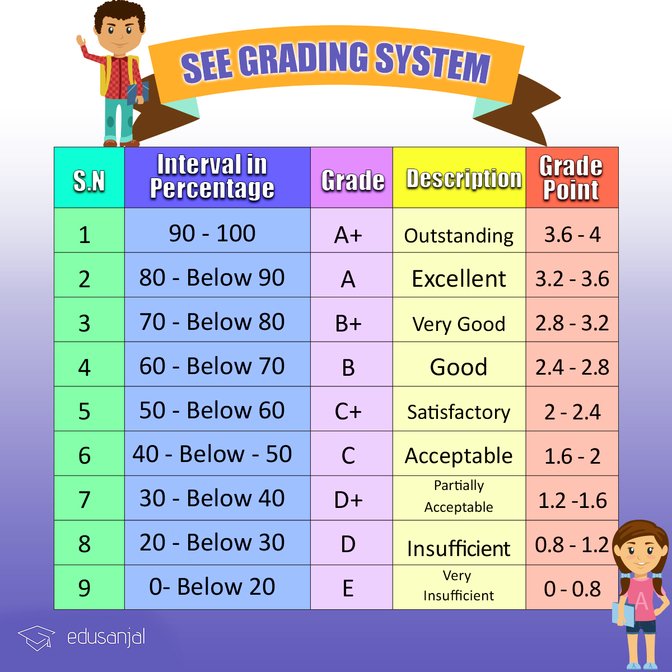 What after SEE?
After the publication of the SEE results, various scholarships will open which will give students an opportunity to study +2 levels or Diploma level (technical, under CTEVT). If you want to know about such scholarships, their application deadline, etc, you can visit this link: Scholarships for +2/Diploma Level.
Similarly, the admissions for +2 in Science, Management, Humanities, Law, and Education will open after the publication of the results. Information about entrance examinations of various schools/colleges will be available in this link: Admissions for +2/Diploma programs in Nepal.
For details see our blog "What after SEE?"
Find out which program is suitable for you!
Academic Programs (NEB)
GCE A Level
Vocational Programs (CTEVT)
Click here to view all certificate and diploma programs.
SEE 2074 Result and Statistics:
In 2074, altogether four lakhs, fifty-one thousand, five hundred and thirty-two students from all over the nation participated in the SEE examination held on Chaitra, 2074. Consequently, the results of the exam were announced on Ashadh 9, 2075.
| GPA | Grade | Number of Students |
| --- | --- | --- |
| 3.65 - 4.00 | A+ | 14234 |
| 3.25 - 3.60 | A | 46130 |
| 2.85 - 3.20 | B+ | 49037 |
| 2.45 - 2.80 | B | 70512 |
| 2.05 - 2.40 | C+ | 61870 |
| 1.65 - 2.00 | C | 101043 |
| 1.25 - 1.60 | D+ | 35584 |
| 0.85 - 1.20 | D | 58688 |
| 0.00 - 0.80 | E | 0 |