The traditional industry based on industrial revolution is shifted to the modern hi-tech industry based on Information Technology in recent years marking the 21st century as the age of Information.
Information, which includes both electronic and physical information is created and needs to be disseminated in every piece of second and almost all management in the modern age relies heavily on information to thrive. Thus, the organization must be capable of managing and disseminating the information to one or more audience regardless of source or format of information. Information assets are corporate assets and not all information is open to everyone.
Information Management is a course aimed to produce skillful human resources professionals proficient in the use of computers and computational techniques in order to develop effective information systems to solve real-life problems in the organizational milieu.
The graduates of information management are likely to be paid generously and generally work in the creative environment. Due to these perks, Information Management is one of the most sought-after course in Nepal and the globe.
The Bachelor of Information Management (BIM) program is a Four Years (Eight Semesters) program of Tribhuvan University offering an integrated IT and Management Courses. BIM course is envisaged to enable students to develop skill in information technology, and at the same time make them able to understand the professional expertise while they occupy decision making positions.
Information Management is the study of information and communication systems in business and administration and is becoming increasingly relevant to other fields as well. Information Management includes the development and application of theories, ideas, models, methods, and tools in order to analyze, configure, and use information systems.
Objective of the Program

The mission of this program is to develop socially responsible, scientifically approached and result oriented information technology (IT) professionals. The specific objectives of the program are to:

Prepare IT professionals proficient in the use of computers and computational techniques in order to develop effective information systems to solve real life problems in the organizational milieu
Develop students' skill in object-oriented software design methods and data management systems.
Provide professional training to students by combining information technology with managerial skills
Prepare students to proceed on to post graduate level study in information management within and outside the country
Eligibility for Admission in Bachelor in Information Management (BIM) at Tribhuvan University:
The candidates applying for BIM programs must have minimum grade 'C' in all the subjects of 11 and 12 or successfully have completed a twelve years schooling or equivalent from any University, Board or Institution recognized by Tribhuvan University securing a minimum of second division in the twelve-year schooling or equivalent.
Complies with all the application procedures. Must have appeared and passed in the entrance test Central Management Admission Test (CMAT) conducted by the Faculty of Management, Tribhuvan University.
CMAT test includes verbal ability, Quantitative ability, logical reasoning, and General awareness. Only shortlisted candidates from the written test will be interviewed and selected for admission.
Written Test
Eligible applicants are required to appear in the entrance test commonly known as Central Management Admission Test (CMAT) conducted by the Faculty of Management. The test will follow the international testing pattern and standards. It includes the areas like:

There shall be altogether one hundred (100) objective questions in the CMAT containing twenty (25) questions in each section with a total weight of 100 marks. The Student must secure a minimum of 40% in the CMAT in order to qualify for the interview. Interview Applicants securing above cut off point marks in the CMAT will be short-listed. Only short listed candidates will be interviewed and selected for admission.
Verbal ability
Quantitative ability
Logical reasoning
General awareness
Merit List
Admissions of the students in BIM program of Tribhuvan University will be strictly on the basis of merit list. Merit list is prepared on the basis of:
60% of CMAT Entrance examination
30% of marks secured in percentage in plus two or equivalent
10% Interview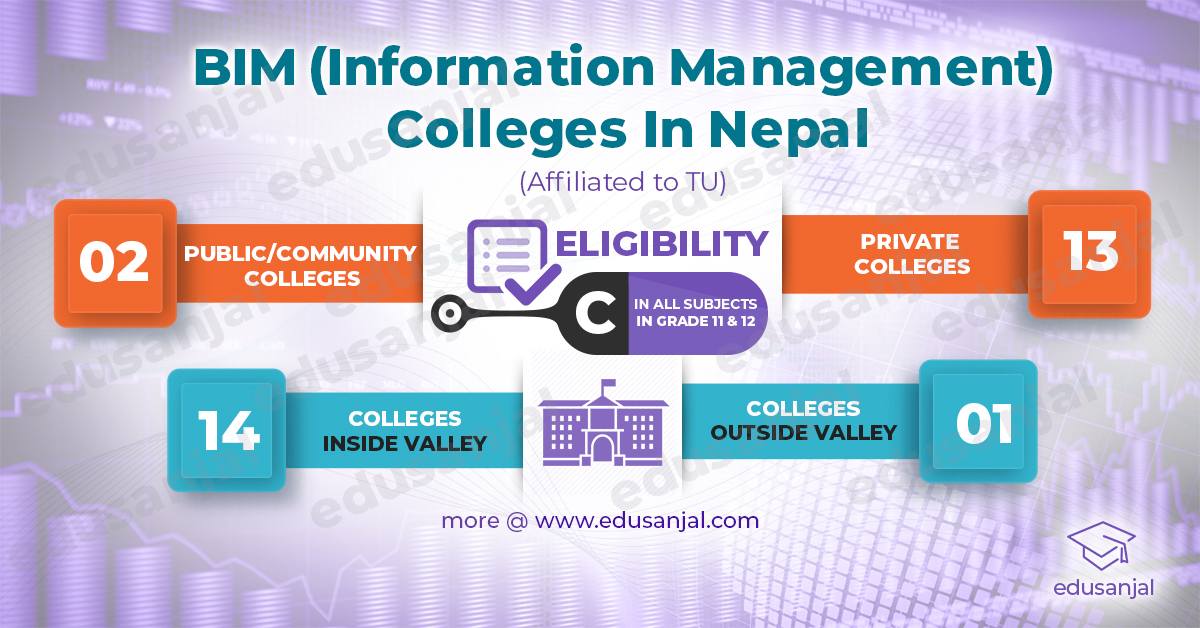 In Nepal fifteen (15) Business/IT colleges offer Bachelor of Information Management (BIM) program with affiliation from Tribhuvan University. Out of which two are public colleges and rest are private colleges.
The public Colleges which offer Bachelor of Information Management (BIM) are:
1. Nepal Commerce Campus (NCC)
Nepal Commerce Campus (popularly known as NCC), one of the oldest management colleges of Tribhuvan University, was established in 2021 BS with a zeal of imparting quality education in the country. Nepal Commerce Campus-NCC (also known as Minbhawan Campus) is currently offering Six different management programs.
Nepal Commerce Campus has been playing an instrumental role in the industrial and commercial development of the country by producing skilful and professional managers since its establishment. It is ideally located in the heart of Kathmandu Metropolitan at New Baneshwor in a spacious premise. With its experienced, dedicated, enthusiastic team of professors, scholars and intellectuals, the college has already produced thousands of graduates and postgraduates who are consistently working as distinguished dignitaries in various posts of civil services, private sector as well as outstanding national and international institutions.
Courses offered by Nepal Commerce Campus are:
Shanker Dev Campus (SDC) is a leading constituent campus of Tribhuvan University which is offering quality education in graduate and
undergraduate level of Management in affordable cost. It is ideally located at the heart of Kathmandu metropolitan city. Shanker Dev Campus has been exclusively offering Management education since its inception. Shankerdev Campus runs undergraduate and graduate courses in business and management. Over the period Shanker Dev Campus has produced middle and manager level professionals required for the country. It has, in addition, produced a number of politicians and administrators and some of them have reached the highest level of careers in their lives.
Courses offered by Shanker Dev Campus are:
Similarly, the private colleges which offer Bachelor of Information Management (BIM) are:
Established in 1995, KIST is one of the preferred academic institutions among students for +2 Bachelors and Masters level programs. KIST College offers high standard NEB +2 Science & Management courses, a range of top quality Bachelor's degrees, followed by Master's degrees KIST is well-known to most educators and students along with their families that the college's educational delivery, at the different levels it covers, is as good as the best anywhere! This is due to its dedicated, expert faculty and their unique learning-teaching. Also, the college believes in student intake interlinked to academic excellence. Its ideal education yields top results in key examinations.
Courses offered by KIST college are:
Prime College is the first IT-enabled college, located in the heart of the city- Khusibu, Naya Bazar, Kathmandu having 1400 students. The College is spread across two different locations and has four modern buildings with sufficient spacious and fully furnished rooms. Prime is well known for the extraordinary faculties, distinguished researchers, scholars and experts. Prime College offers world-class academic programs and a growing array of intellectual. At Prime College, information technology is integral to academic life. IT facilitates seamless integration of teaching, learning, research, service and administrative roles to provide a cohesive and efficient learning environment. The technology will integrate learning and research at the college and enable researchers to compete effectively.
Courses offered by Prime College are:
3. College of Applied Business (CAB)
College of Applied Business (CAB) founded in 1998 AD by a group of experienced educationists and professionals is a non-profit institution committed to excellence. The college believes that competent and excellent manpower is the prerequisite for the overall development of the nation. The CAB has been applying appropriate module and the technique in the teaching curricula so as to make students competent in their fields. The methods such as seminars, research and industrial observation tours that are regular features of the College have been highly successful in enhancing the knowledge and personality of the students.
Courses offered by this College of Applied Business (CAB) are:
4. Thames International College
Thames International College is a premier academic institution offering a variety of undergraduate programs. The college comprises of two schools, AMS School of Business and Technology and School of Social Sciences.

Thames International College ensures a world-class education that transforms students into independent, co-operative, competent and socially responsible citizens who value education as a lifelong process. A cultural melting pot of communities from all over the country, the college caters to the students from all corners of Nepal.
Courses offered by Thames International College are:
5. Kantipur College of Management and Information Technology (KCMIT)
Kantipur College of Management and Information Technology (KCMIT) was established in Kathmandu in 2000 A.D. under Tribhuvan University's new direction to enter into collaboration with the private education sector to provide the most advanced education to the Nepalese students. The student eccentric approach of the institution with academic facilities and resources are arguably the best in the nation and we are committed to offering what promising future leaders truly deserve.
KCMIT aims to establish a strong academic foundation, achieve outstanding examination results and engender a mature and independent attitude vital for taking advantage of life's opportunities. KCMIT is committed to nurturing high-quality education and development by creating a conducive environment where students and faculties' activities are in synergy.
Courses offered by Kantipur College of Management and Information Technology (KCMIT) are:
St. Xavier's College, Kathmandu, is an educational institution of higher learning established in 1988 and managed by the Nepal Jesuit Society.
St.Xavier's College seeks to foster competence, creativity, and innovative spirit, throughout and beyond the years spent in College. At the end of their studies at St. Xavier's, students are expected to enter the larger world with socially responsible goals, a lifelong appetite for learning and the desire to better the world. Students are also expected to be prepared to use their God-given talents not only for personal fulfillment but also for service unto others.
It offers 14 different courses of Science, Management, and Humanities including Bachelor of Information Management (BIM).
Find the full list of Colleges that offer BIM program with the affiliation from Tribhuvan University: VIEW HERE
7. Nihareeka College of Management and IT
Nihareeka College, established in 2013 AD is located at Bargachhi, Biratnagar, Morang. The goal of the college is to provide a high quality education that will enable the students to embrace the challenges of the modern world.
Nihareeka College offers the following programs: