Tribhuvan University, Faculties of Humanities and Social Sciences, Dean office, Kirtipur publishes a notice for all the college/campuses who are currently running different programs with affiliation from faculties of humanities and social sciences.
Update 17th Dec 2016: The deadline for the form submission has been extended. Interested college/campus can apply within Poush 7, 2073.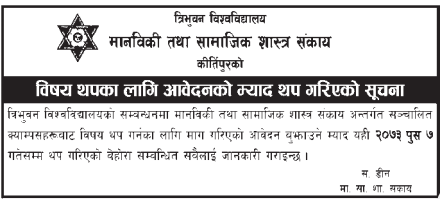 Such colleges/campuses who want to add more subjects can apply within 15 days of publication of this notice. Only campus/college who has renewed their affiliation or in the process of renewing affiliation can apply.