10th August 2018, Kathmandu–The Alumni of Lord Buddha Education Foundation (LBEF) came together for an exciting re-union at Amrit Bhog Caterer at Kalikasthan, Dillibazar on Friday, 10th August 2018 organised by LBEF. Milap, the annual meet ensures to build the alumni community into a stronger movement every year. The place was abuzz as the event witnessed hundreds of graduates meet and network with each other. LBEF has an alumni base of 7,388 with over 123 CEOs in Nepal, US, Europe, and South Asia.
Addressing the alumni Mr. Pankaj Jalan, Chairman, LBEF Group of Intuitions, expressed his delight over the initiative of connecting the vast alumni network of LBEF. He thanked everyone for making it to the event. A big announcement was made during this event that LBEF will have its own new building ready by July 2018. Another amazing and interesting event was the inaugural of the Student Connect newsletter by the Chairman. This quarterly newsletter will include all recent activities followed by research papers from the lecturers. The second half of the event was carried out with cultural performances with good food served during the event.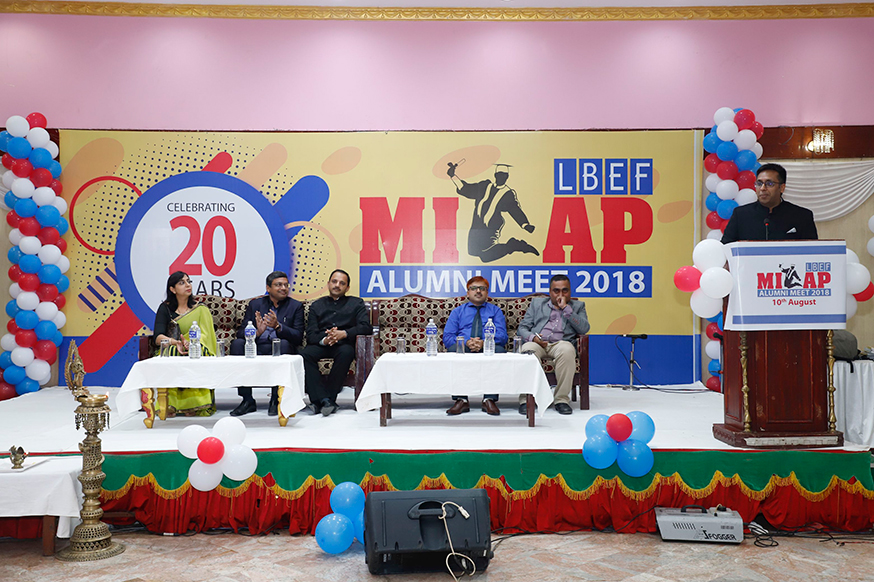 On this occasion, all former students till the 2018 batch, enjoyed the beautiful evening mingling with old friends, sharing stories and getting nostalgic over the past. The event also included some speeches from the past students of different batches. They shared some memorable stories from their college days. The event was then followed by the appreciation award for deserving staffs and the staff working since the inception of the institute.

Speaking at the occasion, Mr. Prakash Kumar, Academic Director, LBEF Group of Institutions, said, "It is such an overwhelming and nostalgic feeling for all of us. Each one of you contributed to make LBEF a great place to learn and grow. We would also like to thank all our alumni students for showing immense support towards the institute through various initiatives even after graduating." Delivering the welcome note, he said, "Big things often have small beginnings. This event is one such small initiative that will mark the beginning of bringing together the vast alumni network of LBEF."
About LBEF Group of Institutions
Founded in 1998, the Lord Buddha Education Foundation (LBEF) has a well-established tradition of excellence across a broad range of academic disciplines. Today, Lord Buddha College offers BBM, BSc (Hons) IT, MBA and MSc ITM programme under Asia Pacific University, Malaysia. LBEF Campus is known as the First IT college of Nepal. It is based in Maitidevi, just opposite the Maitidevi Temple. Patan College for Professional Studies, LBEF and Akshar Vidya Mandir (Smart School) are three different institutions under the group.