Mr. Omkar Kandel Prabesh and Ms.Pujyata Karmacharya are two Nepali students who have been declared as winners of the British Council IELTS Awards 2015. The winners will receive NPR 4,80,000 each towards the cost of tuition fees for study abroad.
The British Council IELTS Awards were launched in 2015 with the objective of assisting students intending to study at universities abroad. Each of the winners was picked out from over hundreds of applicants, all hoping to win the grand prize to facilitate their study abroad dreams. The rigorous application process included essay writing on a topic of their choice in English, a presentation to the judges' panel and interviews. This year, students chose topics as diverse as 'Digitalization of educational content is good for long term learning' to "Developing countries need trade, not aid".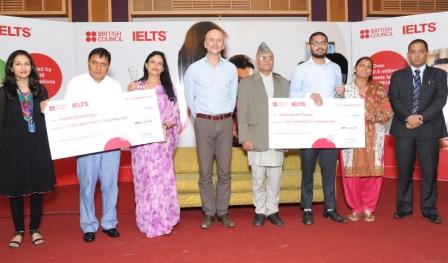 Photo: Dr. Jovan Ilic, Country Director British Council Nepal and Dr. Lava Deo Awasti, Joint Secretary, MOE (Centre) with the winners of the award- Mr. Omkar Kandel Prabesh and his mother (on the right) and mother and father of Ms. Pujyata Karmacharya (on the left) with the British Council Exams team
Dr. Lava Deo Awasti, Joint Secretary, MOE on the occasion said, "This award is not a gate pass to go aboard but a support to gain knowledge and to come back to Nepal and help the country to develop. And the award being announced on the "shiksha diwas" is also a good thing as it shows the commitment of British Council towards the education sector of Nepal."
Omkar Kandel Prabesh, a resident of Kathmandu and the winner who will be going to the University of Hertfordshire, UK, to pursue an M.Sc in Advanced computer science, said "I am thrilled to be one of the winners of the British Council IELTS Award- 2015. This award, the first of its kind in Nepal, has certainly given my profile an edge and has done a world of good for my morale. The entire selection process was quite a journey and made me more driven to achieve the award.It indeed is a huge honor to be one of the first winners from Nepal. This award has not only mitigated the financial burden on my part but at the same time has also motivated me even more to excel at my studies abroad. I am very thankful to the British Council for giving me this encouragement via this award and being a part in my academic journey. Kudos to the British Council for creating such a wonderful platform".
Ms. Pujyata Karmacharya who is currently pursuing her Bachelors of Arts with the degree of Bachelors of Commerce in Macquaire University, Sydney Australia joined the occasion through Skype and said "For me winning the award wasn't about its monetary value. For me, it was about experience and pushing myself towards building my self-esteem and self-development. For me, even participating was the big gain. Like the quote suggests, 'Sometimes you win, sometimes you learn', the latter half of the statement was more important to me – learning from this experience. The major obstacle for leaving Nepal and studying abroad was self-confidence and financial support. British Council however, has eliminated these obstacles for me by supporting me, encouraging me and showing me that all things in life can be achieved if you are to give it your best. I feel immensely grateful for receiving this scholarship award from The British Council and couldn't be thankful enough for giving me the opportunity to participate in this competition" expressed
Dr. Jovan Illic, Country Director British Council Nepal on the occasion said-"This wonderful initiative not only provides significant financial support for the two winners to enable them to study abroad and help them to realize their future dreams and goals, but it also boosts their status as winners of this award by a competitive process. I wish them both every success and look forward to many more deserving applications in future years."
International English Language Testing System (IELTS), recognized as the world's leading international English language test, is designed to evaluate the ability to communicate in English for education, immigration and professional accreditation worldwide. IELTS is now accepted by more than 9,000 educational institutions, employers, professional associations and governments in 145 countries around the world – including over 3,000 institutions and programs in the USA as a measure of English Language proficiency.
The British Council IELTS Awards will be an annual event run by the British Council Nepal.