Kathmandu University calls for application for admission in Undergraduate Programs in School of Science and School of Engineering for the academic year 2018/2019 in the following programs with following indicated number of seats. In order to be fully eligible for application, candidates must have passed 10+2 level (or equivalent) with a minimum of 50% marks or 2.4 GPA in aggregate with the additional requirement as listed below for admission intended program.
Candidates are required to appear for Kathmandu University Common Admission Test (KUCAT) and will be offered admission based on rank in KUCAT result in all merit seats and in the quota seats. The admission test will be conducted in the mode of Computer-Based Test (CBT) as described in the KUCAT CBT Information. Candidates are strongly advised to read thoroughly the KUCAT CBT Information before the Admission test.
Apply Online before visiting KU for Admit Card for the Entrance Examination.
Online Application opens on 7 June, 2018 and deadline is 14 June, 2018.
Application Fee is Rs. 1,500.
Admit card distribution date starts on 10 June 2018 and ends on 15 June 2018.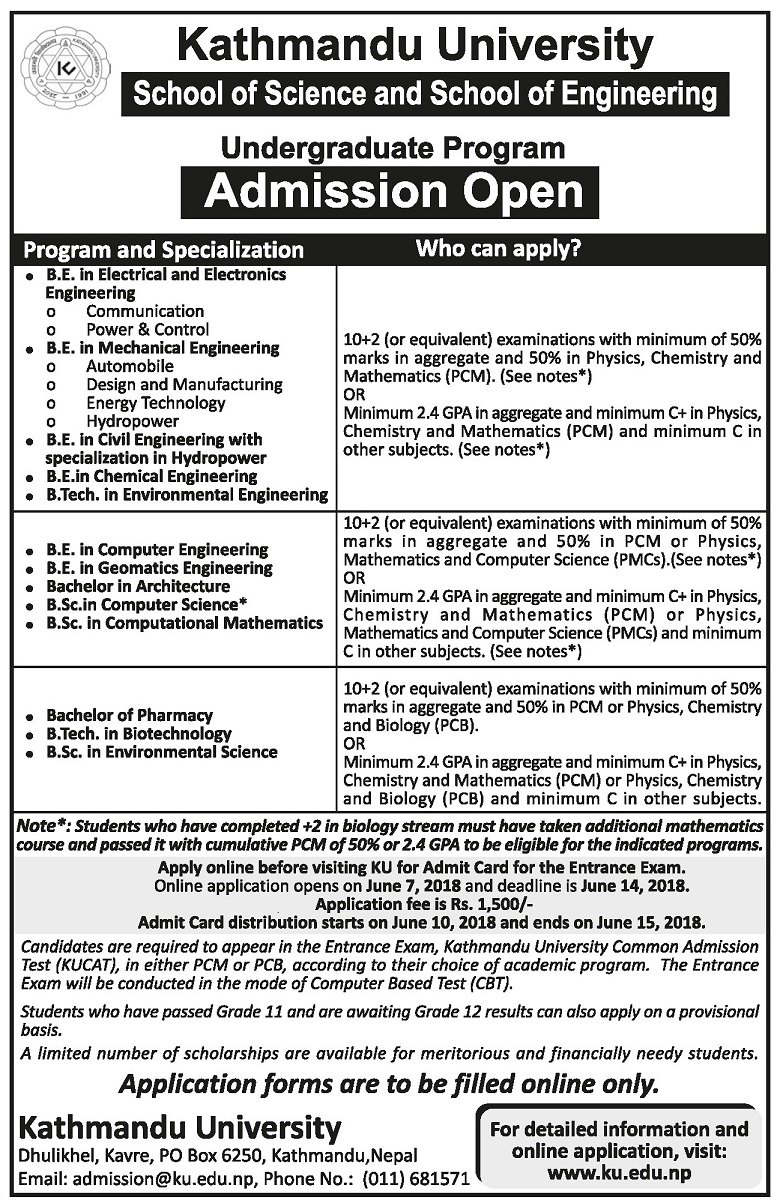 Important Schedule and Deadlines
Schedule
Date/Period/Deadline
Remarks
Registration and Application Form Filling OPENS
07 June, 2018
Online at http://apply.ku.edu.np/cbt
Registration and Application Form Filling CLOSED
14 June, 2018
Admit card collection for CBT
10-15 June, 2018; 10 AM to 3 PM
Block 08 of KU *
KUCAT CBT Test
18 June, 2018 onwards
Block 08 and 09 of KU Date and time for candidate as mentioned in the admit card
Publication of CBT score
01 July, 2018
On KU website
Program option changing by candidates
02-03 July, 2018
Online
Publication of First List for Admission (Open Merit Seat)
05 July, 2018
Admission procedure will be on the admission notice
Admitted student orientation
01 August, 2018
Start of Academic Session or Classes
02 August, 2018
*For admit card issue for entrance test, personal identification & its copy (citizenship or passport or license or 12/equivalent admit card or other valid photo ID issued by recognized authority from Nepal Government), 3 recent PP size photographs, and the bank deposit voucher (Rs. 1,500) are required.
For detail information Download PDF File
For information on Entrance Test Download PDF File