Shree Secondary School, situated at Buddhabhumi-09, Kapilvastu invites application from qualified Nepali citizen to fulfill the post of Teacher, Training Assistant and Instructor via open competition.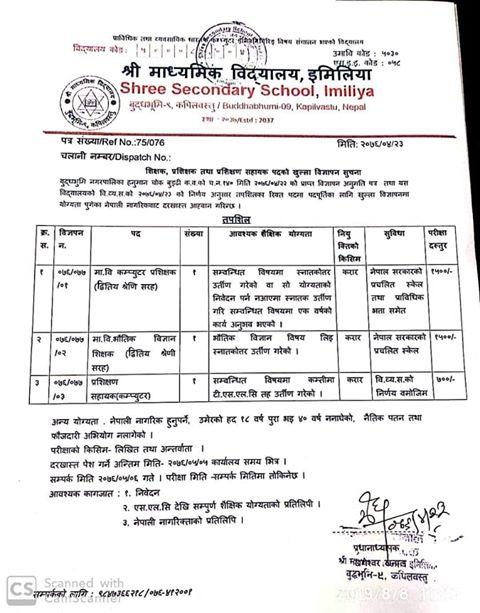 Position

1. Secondary Computer Instructor (Equivalent to Second Level)
Number: 1
Educational Qualification:
Should have passed master level in relevant subject or 1 year work experience.
Exam fee: Rs. 1500/-
Position
2. Secondary Physics Teacher (Equivalent to Second level)
Number: 1
Should have passed M.Sc in physics
Exam Fee: Rs. 1500/-
Position
3. Training Assistant
Number:1
Should have passed TSLC in relevant subject
Exam fee: Rs 700/-
Other qualification:
Should be Nepali citizen
Age bar: Should have completed 18 years of age and not exceed 40
Examination Type:
Deadline to apply: Bhadra 05, 2076
Important documents:
Application letter
Copy of educational certificated from SLC/SEE
Copy of citizenship certificate