Oli and Associates is organizing an offer "Oli & Associates 50% IELTS SCHOLARSHIP This TEEJ" from 25th August to 2nd September on all of it's offices.
Enroll in the best IELTS preparation class in Kathmandu and across Nepal, with a great learning environment, classes throughout the day.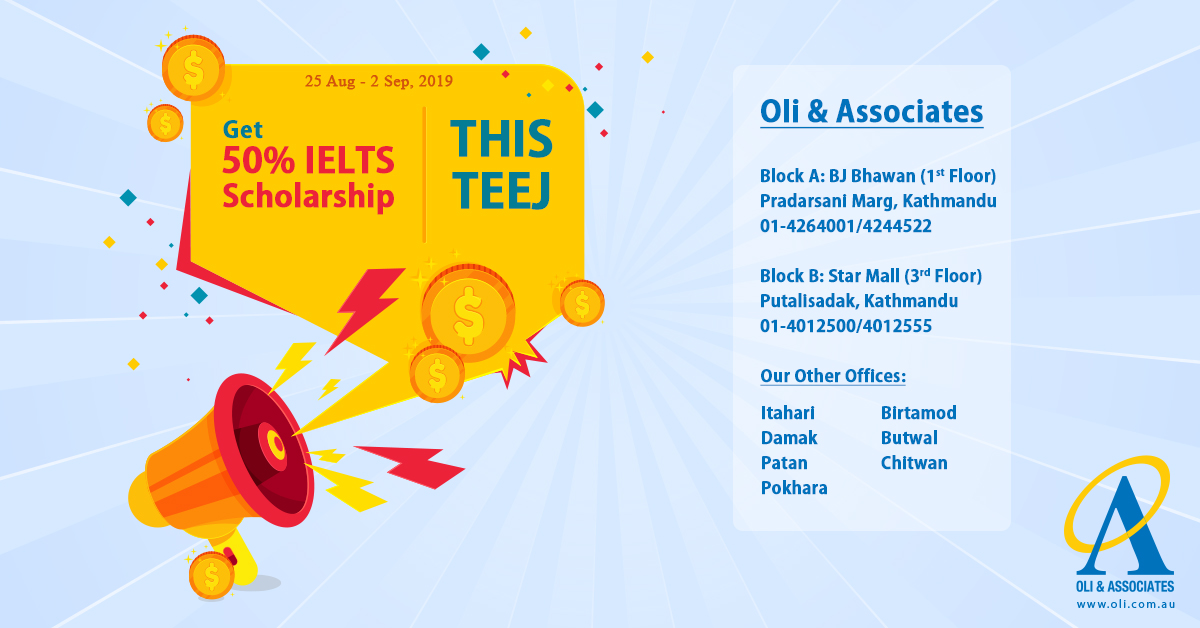 Visit the offices of Oli and Associates across Nepal to avail this Grand Scholarship on from 25 – AUG – 2 SEPT, 2019

!!!!!! Oli & Associates – IELTS SCHOLARSHIP!!!!!
50% SCHOLARSHIP on IELTS Preparation Classes from 25 – AUG – 2 SEPT, 2019
Free Practice Materials
Free Mock Test Coupons for students who have already prepared IELTS
Oli & Associates
The Pioneer in Australian Education
KTM Block A:
BJ Bhawan 1st Floor, Pradarsani Marg, Putalisadak
01 4264001 / 4244522
KTM Block B
Star Mall 3rd Floor, Putalisadak
01 4012500 / 4012555
Birtamode:
Giri Keshav Complex, 2nd Floor (Above Everest Bank) Sanischare Road, Birtamode
023 542283 / 9801970406
Itahari
Shree Complex, 2nd Floor, Paschimeline, Itahari
025 581656 / 9801970412
Patan
Samsung Plaza, Kumaripati, Lalitpur
015526766
Chitwan
Lionschowk, Narayangarh
056 572591
Pokhara
Nirmal Shanta Niwas, Zero Km, Pokhara
061 520010
Butwal
Level 2, Siddhartha Highway (Opposite to Siddhartha Bank), Butwal
071 540406
Damak
Opposite to Gorkha Department, Way to Unique College, Damak
For further information:
Oli & Associates Nepal
Star Mall (Third Floor),
Putalisadak, Kathmandu
Phone: 01 - 4012500 / 4012555
Website: www.oli.com.au