Ministry of Education (MoE), Nepal has announced the names of best community and private schools across Nepal.
The schools will be awarded on the occasion of 37th National Education Day 2073 on September 8 for their outstanding performance in the last academic session.
The schools are judged on the basis of following criteria
Results of School Leaving Certificate (SLC) (60 points),
enrollment of students in Grade IX (10 points),
number of students passing SLC (10 points),
SLC pass percentage of the past three years (10 points)
number of students who appeared in the SLC examinations (10 points).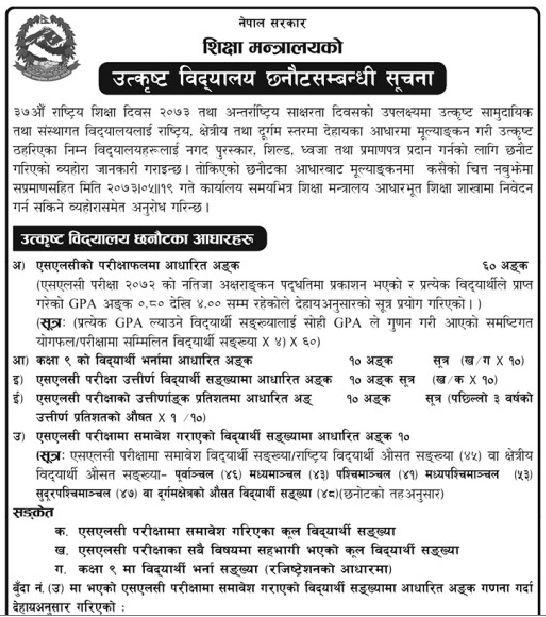 GEMS had secured 91.64 points out of 100 from among private schools while Sitala Devi Secondary School got 80.26 points from among community schools.
Kaski-based Sitala Devi Secondary School has been picked as outstanding school from among community schools across the country. The school will be awarded a national shield, certificate and Rs 200,000.
Similarly, Lalitpur-based Graded English Medium School will be awarded a national shield, certificate and Rs 200,000.
Okhaldhunga-based Baruneshwor Secondary School from eastern region , Bharatpur-based Narayani Model Secondary School from central region, Baglung-based Ganesh Secondary School from western region, Mugu-based Guru Secondary School from mid-western region and Kailali-based Nawajyoti School from far-western region have been selected as outstanding schools from among community schools at the regional level.
Likewise, Morang-based Baal Kalyan School, Lalitpur-based Little Angles Secondary School, Kaski-based Motherland Secondary School, Dang-based Tulasi Boarding Secondary School and Kanchanpur-based International Public School have been named outstanding private schools at the regional level.
According to MoE, outstanding schools from various development regions will get Rs 100,000, along with a national shield and certificate.