Nobel Laureate Dan Shechtman today suggested that Nepal could motivate the country's younger generation to establish new technological ventures, and added that scientists believed technological entrepreneurship was a key to world peace and prosperity.

Speaking at a talk programme organised on the sidelines of the 13th International Conference on Quasicrystals in Kathmandu, the renowned material scientist said that technological entrepreneurship was possible only after putting real science education in the nation's top priority.
"Nepal can inspire engineers, scientists, medical doctors and computer experts among others for the techno-logical start-ups," he said, pre-scribing that, strategic partnerships, bootstrapping and venture capital funds could be the sources of investment for start-ups.
He added that good basic education to all as well as good engineering and science education, supportive government policy, free market economy and corruption-free society were the basic elements that always helped empower entrepreneurship.
"Unstable economies and population growth as well as urbanistion and education of women are the major chail.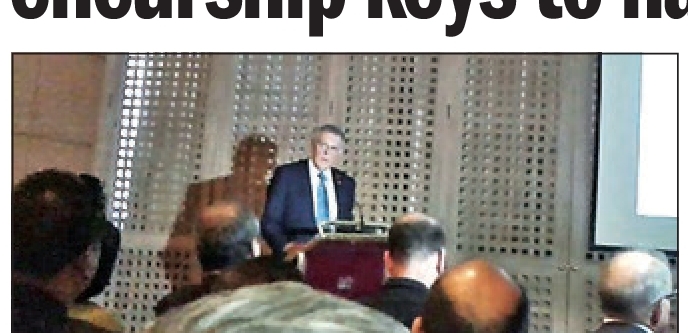 Nobel laureate Dan Shechtman speaking at a programme organised on the sidelines of the 13th International Conference on Quasicrystals, in Kathmandu, on Monday.
Lenges to technological revolution," the professor of material science at Technion, a public research university in Haifa, Israel, said.
According to him, innovation which leads to entrepreneurship is mainly concerned win d th national democracy social equality lack of fear of authority.
The government could a chief scientist's office in every ministry and also support individual innovative start-ups, he suggested.
The professor also said it was a challenge for every nation to make school-going children like science. "A real science education is the need of hour," he said.
Saying that the trend of population growth moved from expanding to being stationary, the scientist said it was also challenging to man-age an ageing population.
Shechtman who discovered quasiperiodic crystals in April 1982 as a visiting scholar at the National Bureau of standards in Maryland, US, won the Nobel Prize in Chemistry in 2011.
"Do give up the fear of failure," the scientist advised. Ambassador of Israel to Nepal Yaron Mayer said that Nepal could learn from Israel how technological entrepreneurship could overcome all challenges that hindering a nation's peace and prosperity.
"Shechtman is a role model in Israel and the world," he said.
The talk programme was jointly organised by the Embassy of Israel in Nepal, Non-Resident Nepali Association and Nepal Science Foundation Trust with the support of Nepal Forum of Science Journalists and Asian Science camp Alumni Association.
Source; Himalayan News Service