Prof. Dr. Kulprasad Koriala is appointed VC of Nepal Sanskrit University. Dr. Koriala is close to Nepali Congress.
Chancellor and Prime Minister Shushil Koirala has appointed him as a Vice Chancellor (VC). The posts of VC in various Universities of Nepal was vacant since Sharwan 22, 2072.

The name was recommended by a committee which is chaired by Education Minister Chitra Lekha Yadav.
According to legal provisions, a committee led by the pro-chancellor recommends the name and cabinet appoints VC in line with the recommendation.
The committee, however, is yet to pick the names of VC for remaining three universities as CPN-UML and UCPN (Maoist) are yet to provide the names.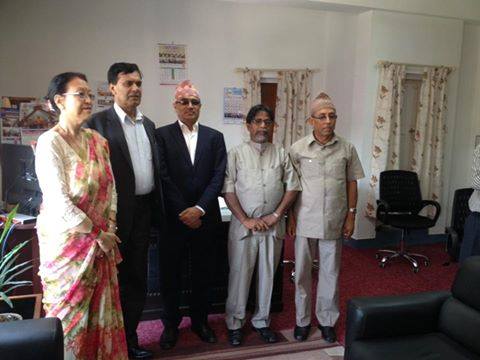 Photo: Newly appointed VC of various Universities of Nepal
Also Read:
Also Read: