Prof. Dr. Tirth Raj Khaniya has been appointed as VC of Tribhuvan University. Dr. Khaniya is appointed as VC in the quota of Nepali Congress. Prof Dr Khaniya is the 18th VC of Tribhuvan University.
Chancellor and Prime Minister Shushil Koirala has appointed him as a Vice Chancellor (VC). The posts of VC in various Universities of Nepal was vacant since Sharwan 22, 2072.

The name was recommended by a committee which is chaired by Education Minister Chitra Lekha Yadav.
Soon after the appointment, Prof Khaniya, went to TU in Kirtipur and assumed office amid tight security due to the protest of Nepal University Progressive Teachers' Association. After resuming the office he expressed commitment to revive the goodwill of the country's first university and make it economically self-sustainable to ensure quality education to all Nepalis.
Talking to media after assuming office, he said it was a great opportunity to serve the university, which has produced the country's renowned leaders, academicians, experts and others.
He said, "TU is a public university but it is losing credibility by the day. Thus my first priority will be to develop public faith in public education." Prof Khaniya said he will talk to the Rector and Registrar of TU to discuss challenges and problems in the varsity and ways to resolve them. "Education is getting expensive across the world and the university needs to make it self-sustainable to provide quality education free of cost," he said, adding, "Thus I will be searching for options to make the varsity economically sustainable by identifying potential sources of money that can be used to impart quality education."
"Alumni in a university are a great asset, thus I will take initiative to form such alumni," he said, stating that if it was formed earlier, it would have been a great help to the university after the April 25 quake.
He also vowed to manage problems of contract and part-time teachers in the varsity and draft a policy and guidelines to select the VC to hand over responsibility in a systematic way to another qualified person after completion of his tenure.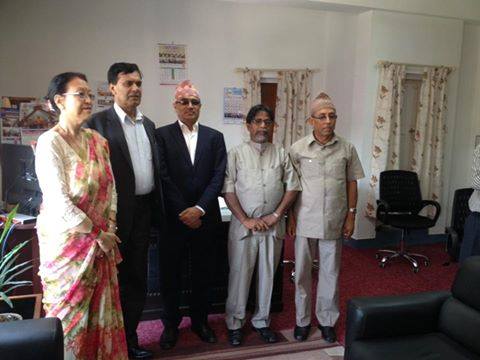 Photo: Newly appointed VC of various Universities of Nepal (Prof. Tirtha Khaniya, second from left)
Also Read:
About Professor Khaniya

Tirth Raj Khaniya is a familiar name in the arena of Nepalese education and ELT both. A Ph. D. in Language Testing from University of Edinburgh, UK. Dr. Khaniya led several examination and education reform taskforces. Currently, a Professor of English Education, he teaches language testing in the Department of English Education, TU.
To his credit, he has a number of books and articles published in national and international journals on Nepalese education and ELT. New Horizons in Education in Nepal (2007) and Examination for Enhanced Learning (2005) are his highly acclaimed works.
Prof Dr Khaniya was born in Duradanda, Lamjung in December 25, 1951. He migrated to Chitwan when he was eight years old and completed schooling from a local school. Later, he completed his PhD from University of Edinburgh in the United Kingdom in 1990.
He was director of Basic and Primary Education Project, campus chief at Bharatpur-based Birendra Multiple Campus, chief of English Education Department, first vice-chairperson of Higher Secondary Education Board and member of National Planning Commission.
Controversial Figure:
The Plagiarism issue of educationist Dr. Khaniya is now taking rounds in various onlines and social sites. You can get detail information about this in (Onlinekhabar.com)