Nepal Medical Council (NMC) issuing a notice today informed that students seeking to get admission in foreign medical colleges after January 1, 2018 for post-graduate courses must have to get PG Eligibility Certificate issued by Nepal Medical Council.
To get eligibility certificate, students should complete the following four guidelines of NMC
they must have to pass the entrance exam conducted by Nepal or National Level Entry Exam of that Country,
have to complete three years clinical residency training,
mandatory thesis should have to be passed and
the students must have passed their exit exam from their respective institutions which should be certified by the University/Academy or Board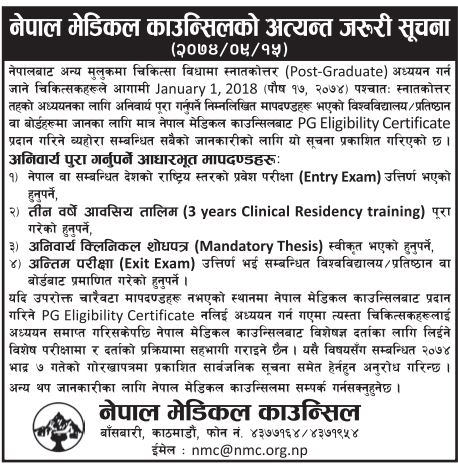 NMC has informed that it will not provide PG Eligibility Certificate to students who do not comply with the guidelines. Any student seeking education in a foreign country without getting the PG Eligibility Certificate from Nepal Medical Council will not be included in special examinations conducted by the council for registration of specialist doctors.

Earlier, any student who appeared in the entrance examination was provided eligibility letter to pursue post-graduate courses in foreign countries.
Every year, 500 students take entrance examination for post-graduate medical courses. Of them, 300 students enrol in foreign colleges and universities as per Nepal Medical Council.