Pokhara, Aug 25 (RSS): A one-day model parliamentary practice has been organized in the Pokhara University (PU) here today.
The event organized jointly by the PU's Faculty of Humanities and Social Sciences and Toni Hagan Foundation, Kathmandu, saw a total of 56 students-32 female and 24 male- of Bachelors Level from various 11 colleges and universities in Pokhara. They conducted a mock parliament and emulate themselves as parliamentarians and their practices.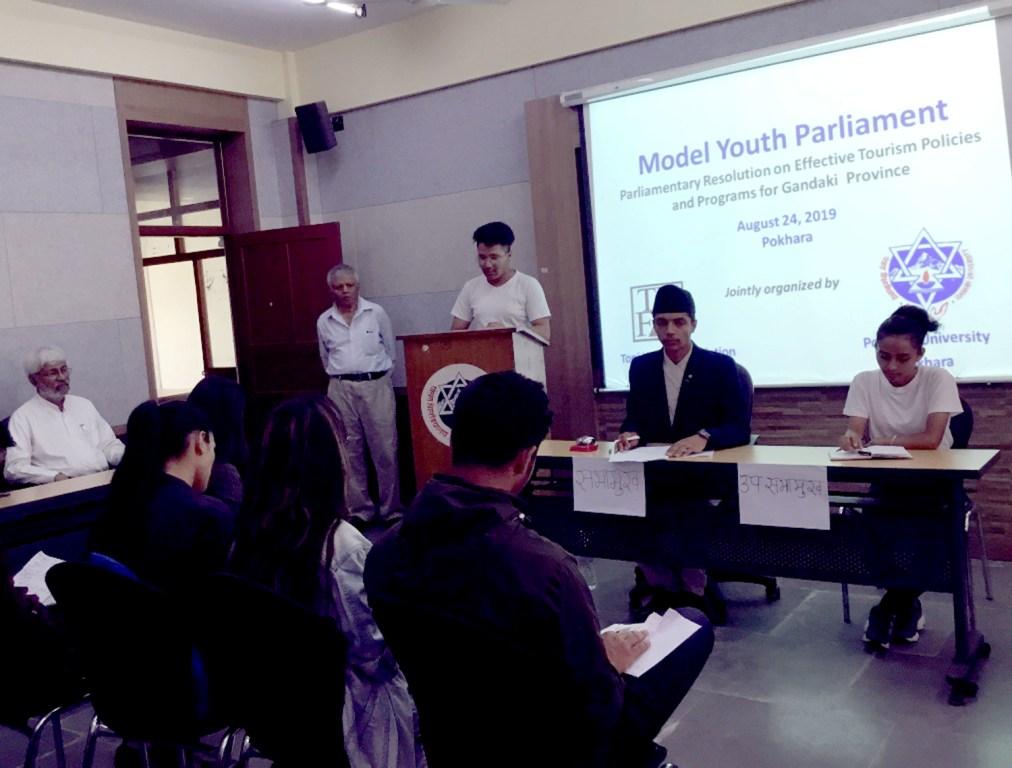 The pseudo parliamentarians then deliberated on the proposal on effective tourism policy and programmes for Gandaki State. Earlier on August 23, former Secretary in the Nepal Parliament Toyanath Bhattarai and former parliamentarian Phatik Thapa had provided the participating students an orientation on the parliamentarian and their business in the parliamentary system.
The pseudo lawmakers donned the role of senior lawmaker, Speaker, Tourism Minister, leader of major opposition party, whips of the ruling party and the opposition party, Secretariat member and marshal.
During the mock parliamentary session, the lawmakers in various roles had practiced registering and selecting proposal, Speaker of the house approving the proposal, seconding the proposal or protesting it and endorsing resolution proposal among others. Prof Pramod Kumar Jha of Toni Hagan Foundation said that the Foundation could provide technical assistance for the model youth parliament if it was to be held in other schools and colleges.
Pokhara University's Prof Dr Indra Prasad Tiwari shared the model youth parliamentary would be held in various colleges of Gandaki State in collaboration with PU and other colleges.
Towards the end of the parliamentary session, a documentary named 'Uhile ko Nepal' (The then Nepal) was shown while Foundation's Basanta Thapa shed lights on the life and times of Nepal-lover Swiss national Toni Hagan and his contributions to Nepal.