Council for Technical Education and Vocational Training (CTEVT), Sanothimi, Bhaktapur has fixed the maximum fee structure of ANM, CMA and Basic Survey programs.

The meeting of CTEVT Council held on Sharwan 5, 2073 has taken this decision. CTEVT has informed all the affiliated colleges to implement this revised fee structure.
Maximum allowed fee structure:
Auxiliary Nurse Midwife (ANM) program: NPR- 120,000 (1 Lakh, 20 thousands only)
TSLC in Community Medicine Assistant-CMA : NPR- 100,000 (1 lakh only)
TSLC in Survey Engineering (AMIN): NPR 100,000 (1 lakh only)
The above fee includes Registration fee, Institutional development fee, Monthly fee, examination fee, practical fee, Hospital etc. Colleges cannot charge fee from students in any other headings. Hostel fee (if applicable) is not included in the above fee.
If colleges are found of charging fee above the maximum fee mentioned above they will be punished according to prevailing rule and regulation of CTEVT.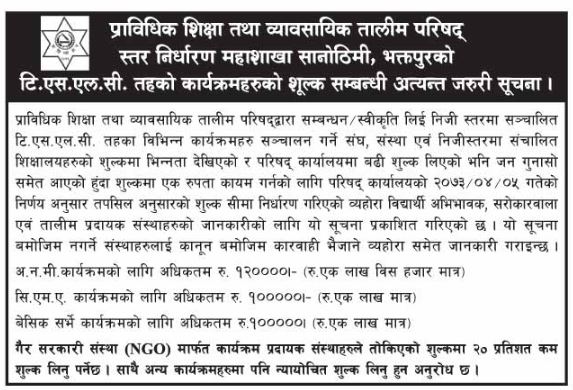 Update 25th July, 2016:
Federation of Technical Education and Vocational Training published a press release regarding the fee fixed by government and showed reluctance to implement the revised fee structure.