National Youth Council, Sanothimi, Bhaktapur, has announced research grant for 10 youths. The research grant is exclusive to the youths who are interested in conducting research related to topics of Science and Technology. The amount given for the research will be NRs. 50,000 each.
Application Deadline: Baisakh 5, 2076 (April 18, 2019)
Required Documents: Application along with Research Proposal
View the official notice below, followed by the structure of the proposal below the notice.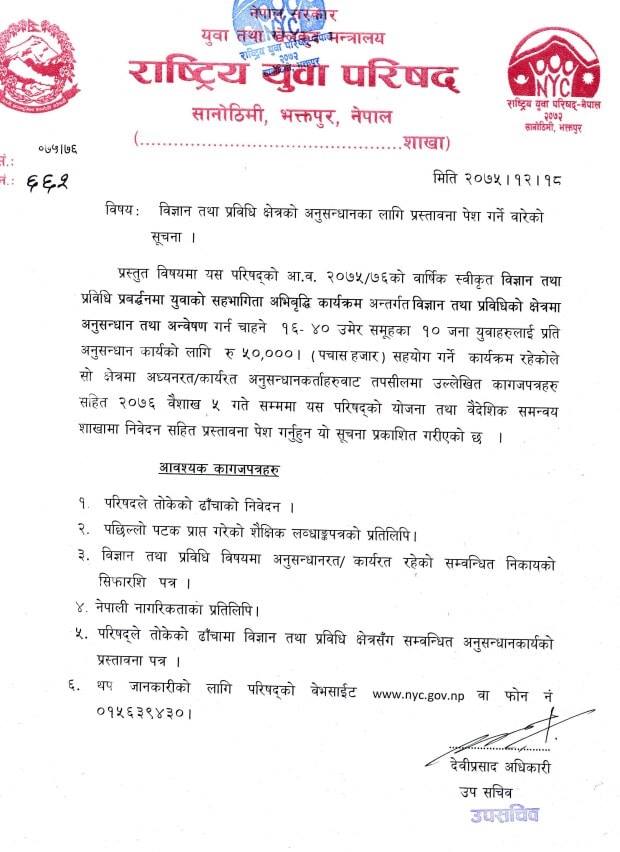 Structure of proposal:
Title
Abstract
Background
Problem of statement
Limitations and Delimitations
Literature Review and Research Question
Theoretical / Conceptual Framework
Hypothesis, Research Questions
Research Objectives
Study design, Methods, Tools and Data Analysis
Expected Finding
Novelty and Level of contribution of the study
Expected Outputs (publication)
Detailed budget
References
Association to National Priority (Explain in simple language)