Kathmandu, July 10: The Madan Puraskar Guthi has released the list of seven best books of the year 2075 BS. Of the 257 books availed for Guthi, seven best books were announced in shortlist today.
Issuing a press note, Chairperson of Guthi, Kunda Dixit said that one of the six books would be provided with the Madan Puraskar of 2075 BS.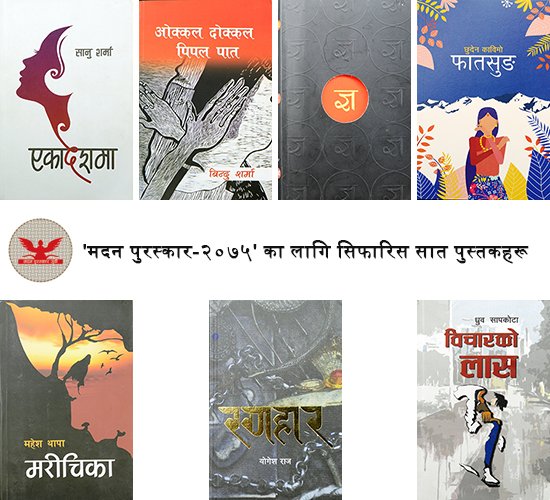 'Ekadeshma' ("एकादेशमा") of Sanu Sharma (सानु शर्मा), 'Okkal Dokkal Peepal Paat' ("ओक्‍कल दोक्‍कल पिपल पात") of Bindu Sharma (बिन्दु शर्मा), 'Gya' ("ज्ञ") of Kumar Nagarkoti (कुमार नगरकोटी), Fatusng ("फातसुङ") of Chuden Kabimo (छुदेन काविमो), 'Marichika' "मरीचिका" of Mahesh Thapa (महेश थापा), 'Ranahaar' ("रणहार") of Yogesh Raj (योगेश राज), and 'Bichaarko laas' ("विचारको लाश") of Dhruba Sapkota ध्रुव सापकोटा are the seven short-listed books.