Forty-one Nepalese students have won awards from Cambridge International Examinations for their exceptional performance in the June 2016 and November 2016 Cambridge exam series. The awards recognize success in Cambridge International AS & A Level subjects. One student has received the prestigious Cambridge 'Top in the World' award

The students, from schools across the country, were congratulated at the Outstanding Cambridge Learner Awards ceremony, supported by the British Council, on 7 April 2017 at Hotel Yak and Yeti, Durbar Marg. Ruchira Ghosh, Regional Director – South Asia, Cambridge International Examinations and Jim O'Neill, Country Examinations Manager, British Council Nepal will attend the event.
This year, one student from Nepal was awarded the prestigious 'Top in World' award for Cambridge International AS Level Language & Literature in English. Thirty-two students were awarded 'Top in Country' awards across a range of Cambridge International AS & A Level qualifications.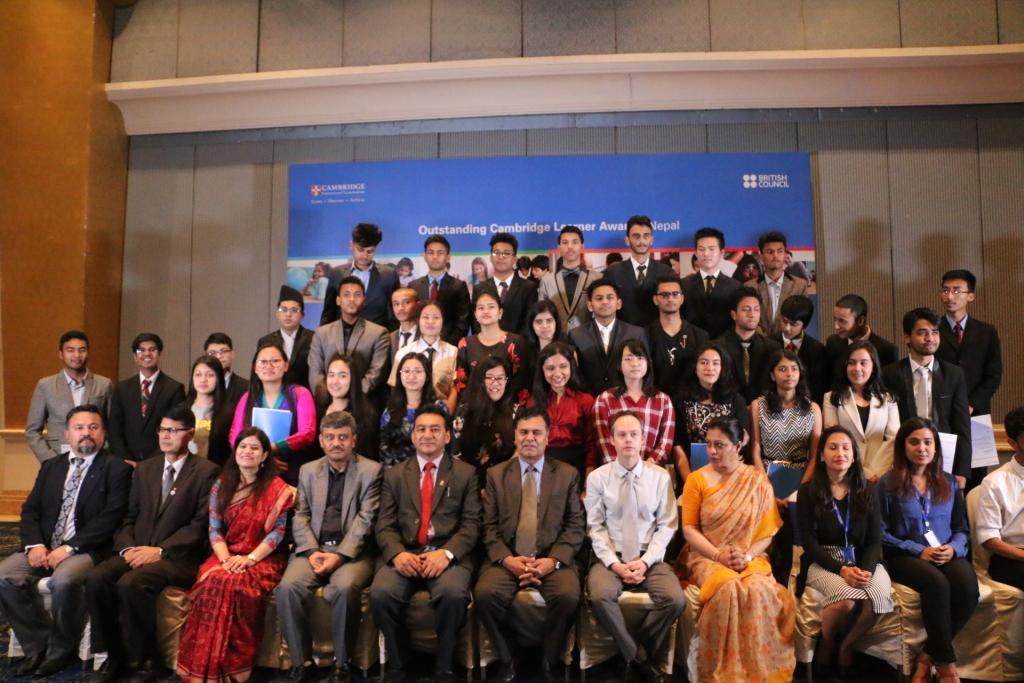 Ruchira Ghosh, Regional Director South Asia, Cambridge International Examinations, said "It gives me immense pleasure to see students across Nepal show such passion for learning. Their outstanding results in Cambridge International Examinations is proof of their determination to achieve academic success, their teachers' commitment and the constant support of their family and friends. Congratulations to all these students on their performance this year and I wish them every success in all of their future endeavors."
Jim O'Neill, Country Exams Manager at British Council Nepal, said "The Cambridge curriculum helps students to learn and acquire core skills and competencies such as critical thinking and problem solving. The coursework and range of subjects offered by Cambridge International Examinations helps students acquire a scientific temperament and an international, perceptive outlook that prepares them very well for lifelong learning. It gives ample opportunity to students to explore and pursue wider areas of study in today's global context. It is a student-friendly curriculum that challenges, invigorates and helps students towards high academic standards."
The most popular Cambridge International AS & A Level subjects in Nepal are Mathematics, Physics, Chemistry and General Paper.
The Nepal students who were awarded by Cambridge International Examinations are:
Top in the World Award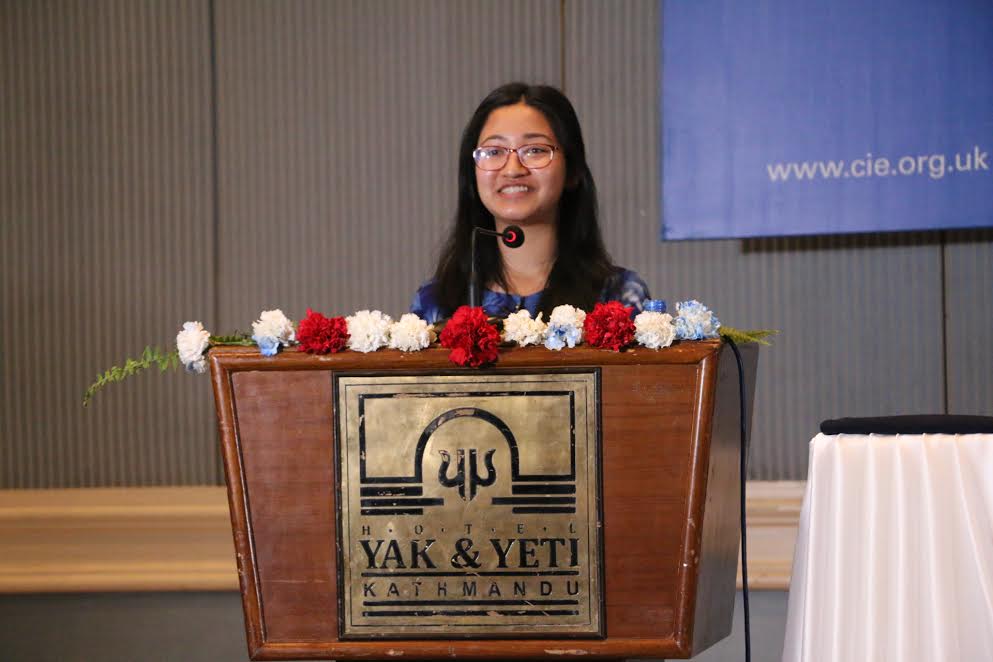 November 2016 examination series

Subject

Name

School name

Qualification level

Language & Literature in English

Samriddhi Shrestha

British Council, Kathmandu

Cambridge International AS Level
Top in Nepal Award
June 2016 examination series

Subject

Name

School name

Qualification level

Accounting

Manas Koirala

Rato Bangala School

Cambridge international A Level

Biology

Pranav Shrestha

Rato Bangala School

Cambridge international A Level

Business

Aakriti Dhital

Rato Bangala School

Cambridge international A Level

Chemistry

Pranav Shrestha

Rato Bangala School

Cambridge international A Level

Computer Science

Bhargav Poudel

Xavier International College

Cambridge international A Level

Economics

Prajwal Bhattarai

Rato Bangala School

Cambridge international A Level

Mathematics

Pranav Shrestha

Rato Bangala School

Cambridge international A Level

Physics

Pranav Shrestha

Rato Bangala School

Cambridge international A Level

Sociology

Avilasha Joshi

Rato Bangala School

Cambridge international A Level

Accounting

Muskan Shrestha

St. Xavier's College

Cambridge International AS Level

Biology

Anubhav Manandhar

St. Xavier's College

Cambridge International AS Level

Business

Muskan Shrestha

St. Xavier's College

Cambridge International AS Level

Chemistry

Sworup Kanta Adhikari

St. Xavier's College

Cambridge International AS Level

Computer Science

Dibya Gautam

St. Xavier's College

Cambridge International AS Level

Computer Science

Sworup Kanta Adhikari

St. Xavier's College

Cambridge International AS Level

Economics

Akshita Gurung

Saipal Academy

Cambridge International AS Level

English Language

Amit Kumar Shah

Budhanilkantha School

Cambridge International AS Level

English Language

Sheetal Gurung

Budhanilkantha School

Cambridge International AS Level

General Paper

Shulav Neupane

Trinity International College

Cambridge International AS Level

Mathematics

Alaukik N Pant

Rato Bangala School

Cambridge International AS Level

Physics

Willson Basyal

Gandaki Higher Secondary Boarding School

Cambridge International AS Level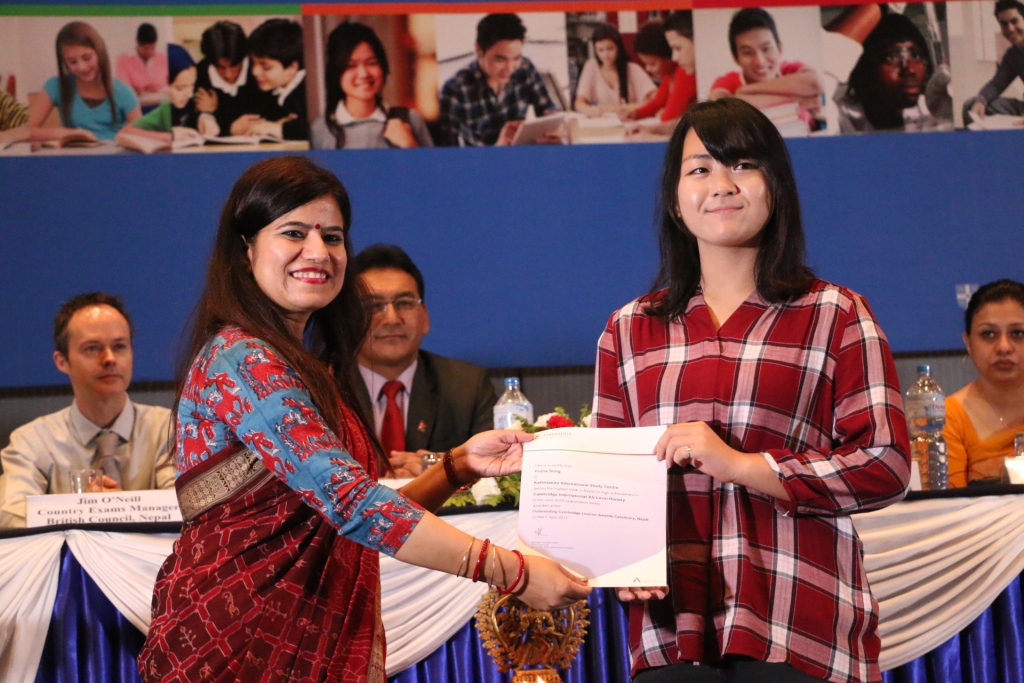 November 2016 examination series

Subject

Name

School name

Qualification level

Computer Science

Abhinav Giri

Orient College of Science and Management

Cambridge international A Level

Physics

Koki Hamaguchi

Little Angels College

Cambridge international A Level

Sociology

Avash Byanjankar

Chelsea International Academy

Cambridge international A Level

Accounting

Tushar Mittal Agrawal

Global College International

Cambridge International AS Level

Biology

Ritika Thapa

Kathmandu University High School

Cambridge International AS Level

Business

Anup Sharma

Chelsea International Academy

Cambridge International AS Level

Chemistry

Bibek Kc

British Model College

Cambridge International AS Level

Computer Science

Prajjwal Bhattarai

Chelsea International Academy

Cambridge International AS Level

Economics

Sudhir Pandey

Global College International

Cambridge International AS Level

English Language

Sujit Gautam

Budhanilkantha School

Cambridge International AS Level

General Paper

Prajjwal Bhattarai

Chelsea International Academy

Cambridge International AS Level

General Paper (International)

Supriya Lama

Rato Bangala School

Cambridge International AS Level

Mathematics

Bishrut Bhattarai

Chelsea International Academy

Cambridge International AS Level

Mathematics

Junseok Choi

Trinity International College

Cambridge International AS Level

Mathematics

Kritib Bhattarai

Trinity International College

Cambridge International AS Level

Physics

Prajjwal Bhattarai

Chelsea International Academy

Cambridge International AS Level

Psychology

Rahul Kayastha

Little Angels College

Cambridge International AS Level

Sociology

Shuvechchha Kunwar

Global College International

Cambridge International AS Level
High Achievement Award
June 2016 examination series

Subject

Name

School name

Qualification level

Further Mathematics

Ishan Baniya

Budhanilkantha School

Cambridge international A Level

History

Shubhayu Guha Khasnobis

The British School, Kathmandu

Cambridge international A Level

Geography

Katie Joy Smith

Kathmandu International Study Centre

Cambridge International AS Level

History

Yeana Song

Kathmandu International Study Centre

Cambridge International AS Level

Language & Literature in English

Eha Joshi

Rato Bangala School

Cambridge International AS Level

Literature in English

Viana Kocher

The British School, Kathmandu

Cambridge International AS Level

Psychology

Viana Kocher

The British School, Kathmandu

Cambridge International AS Level

Sociology

Shrija Pokharel

Chelsea International Academy

Cambridge International AS Level
November 2016 examination series

Subject

Name

School name

Qualification level

Environmental Management

Priyanka Dangol

Rato Bangala School

Cambridge International AS Level
Best Across Award
June 2016 examination series

Category

Name

School name

Qualification level

Best across three subjects in Nepal

Pranav Shrestha

Rato Bangala School

Cambridge

International A Level

Best across four subjects in Nepal

Sworup Kanta Adhikari

St. Xavier's College

Cambridge

International AS Level
November 2016 examination series

Category

Name

School name

Qualification level

Best across four subjects

Prajjwal Bhattarai

Chelsea International Academy

Cambridge

International AS Level