Patan College for Professional Studies has organized its first graduation ceremony on Monday, 2nd July 2018, at Soaltee Crown Plaza in Kathmandu. Patan College for Professional Studies is an academic partner of University of Bedfordshire, UK. The University of Bedfordshire is a modern, innovative university with a heritage of top quality education going back more than 100 years. It has been ranked among top Universities of the World. The Times Higher Education Ranking has placed the University of Bedfordshire among 601-800 band.
On this occasion, 20 students graduated in BSc (Hons) in Computer Science & Software Engineering. The results revealed an astronomically immense magnification in the prosperity of the college, as PCPS started Level 4 and Level 6 together.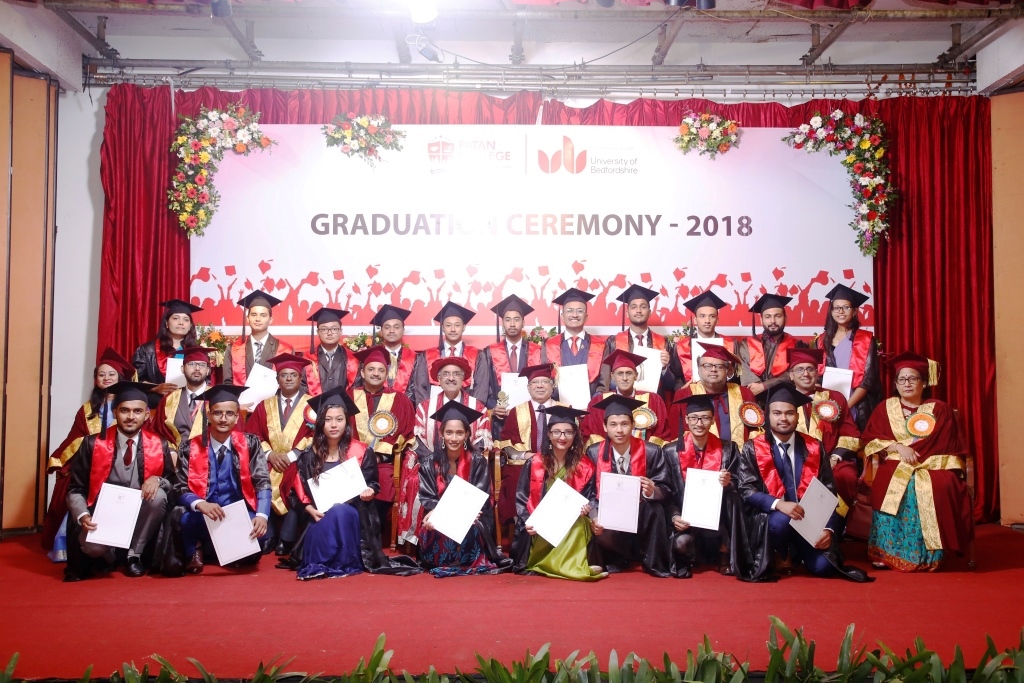 Former Prime Minister and senior Leader of Nepal communist party, Madhav Kumar Nepal, graced the Convocation Ceremony as the Chief Guest. He congratulated the graduating students. Founder of LBEF Sri Parmanand Kejriwal chaired the function, Er. Pankaj Jalan gave the welcome speech. The degree was presented by Prof. Ashraf Jawaid, Deputy Vice-Chancellor (External Relations). Professor Ashraf Jawaid has also delivered Congratulatory Address. Shri Rajendra Khetan, Chairman of NBCCI attended the function as special guest. Along with Prof. Dr Sunity Shrestha, Er. Prakash Kumar, there were many dignitaries from the academic world, corporate industry, and government of Nepal.
In the ceremony, Mr Pankaj Jalan, Chairman of LBEF Group of Institutions, expressed his great pride in the students and the institution during his welcome speech. He further added Patan College, established in 2017 has grown to be a unique educational institution and his dream to make international education accessible to Nepali students has become a reality. The students, he suggested, are the true ambassadors of the college and he is eager to keep in contact with them to follow their future success.
The Convocation ended with a celebration as graduates joined their parents and friends for photographs and food.

Started in 2017, PCPS currently offers BBA (Hons) and BSc (Hons) Computer Science & Software Engineering.