Tribhuvan University, Faculty of Management, Dean office, Kirtipur publishes "a notice regarding affiliation renew" for all the campuses/colleges who has got temporary affiliation 2 years ago and has not yet renew their affiliation despite earlier notices.
Its mandatory for those colleges to renew their affiliation by filling the forms (available in the TU faculty of Management Website - http://www.fomecd.edu.np/) and depositing the application fee Rs. 1000 and Monitoring Fee: Rs. 30,000 for private colleges & application fee Rs. 500 and Monitoring Fee: Rs. 15,000 for government colleges.
Last date for application: Falgun 30, 2075.
Find the official notice below: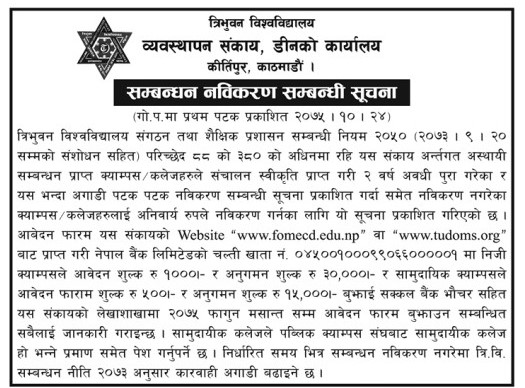 The fate of college/campus who fail to renew their affiliation within the above mentioned deadline will be according to the affiliation rule/regulation of Tribhuvan University.

Bachelor Level Programs:
Masters level Programs