USEF-Nepal offers you a fantastic opportunity to meet with Admissions Officers from NINETEEN U.S. colleges and universities! Attend the EducationUSA University Fair at the Yak & Yeti Hotel, Kathmandu, on Saturday, September 9, 2017.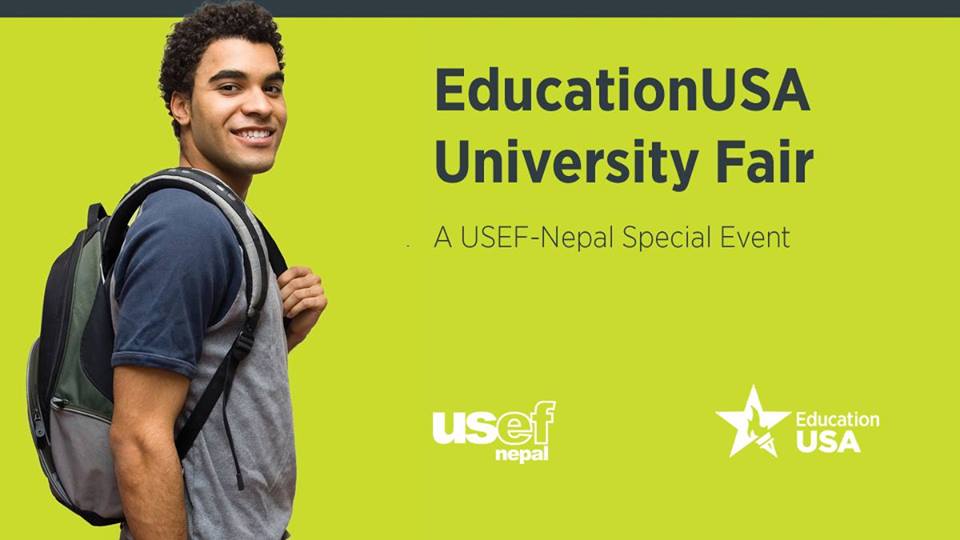 PARTICIPATING UNIVERSITIES
• Albion College
• Bentley University
• Central Washington University
• Marywood University
• McNeese State University
• Murray State University
• Northern Kentucky University
• Ohio Wesleyan University
• Saginaw Valley State University
• Shoreline Community College
• Trine University
• University of Colorado Boulder
• University of Evansville
• University of Missouri - Kansas City
• University of South Dakota
• University of Toledo
• University of Wisconsin-Milwaukee
• Westminster College
• Youngstown State University
TIMING
You can register to attend one of two fair timings:
MORNING 9am-12pm
AFTERNOON 1:30pm-5pm
U.S. STUDENT VISA PRESENTATIONS
Representatives from the U.S. Embassy will offer U.S. student visa presentations during the Fair.
HOW TO REGISTER
To attend the Fair, you MUST register on the USEF-Nepal website IN ADVANCE of the event. Fill out the online registration form available athttp://www.usefnepal.org/registration, click 'Submit,' then PRINT your entry ticket or take a screenshot on your mobile device. You must BRING THE PRINTOUT or SCREENSHOT for entrance to the Fair.
OPEN TO: Students interested in undergraduate and graduate studies in the United States
COST: Free of cost
REGISTER: On USEF's website http://www.usefnepal.org/registration
DOWNLOAD FAIR BROCHURE for university information:http://bit.ly/2w7E4v0
Any Q's? Please contact USEF-Nepal in Gyaneswor, Kathmandu, 4414-598/ 4444-780.