First National Conference of Association of Health Professions Educationists of Nepal (AHPEN) is being organized from December 2-4, 2017 (Mangsir 16-18, 2074) at the premises of Nepalese Army Institute of Health Sciences, Sanobharyang. Any faculty member irrespective of AHPEN membership is welcome to register for it and also is welcome to present paper/poster related to Health Professions Education as mentioned in the conference poster attached herewith.

Pre-conference workshop
Preconference workshop is planned during the first half of December 2, Saturday, followed by Executive Committee Meeting of SEARAME (South East Asia Regional Association for Medical Education) of which AHPEN is a member.
National Conference:
December 3 and first half of Dec 4, 2017 (Sunday and Monday) will be devoted for the first national conference of AHPEN bearing the theme of "Health Professions Education: Challenges and opportunities".


Abstract submission deadline: 7th November, 2017.
The conference registration and abstract submission can be done through the organizational website of AHPEN (www.ahpen.org.np).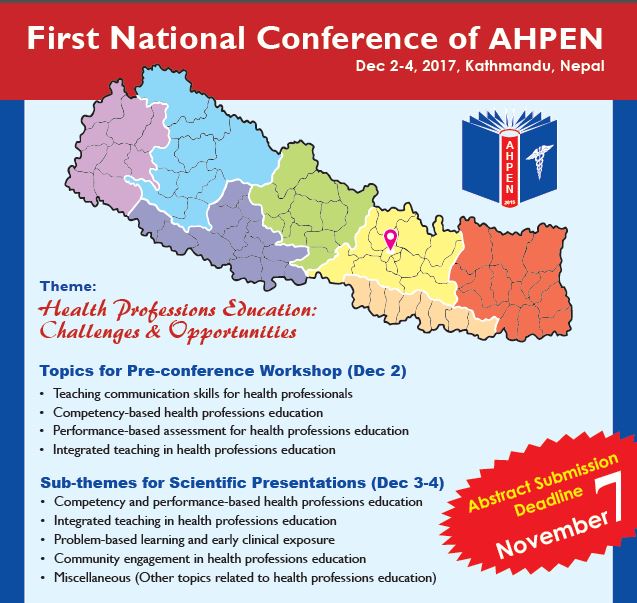 Fee and Registration
For fees and registration, please follow the information mentioned in this image.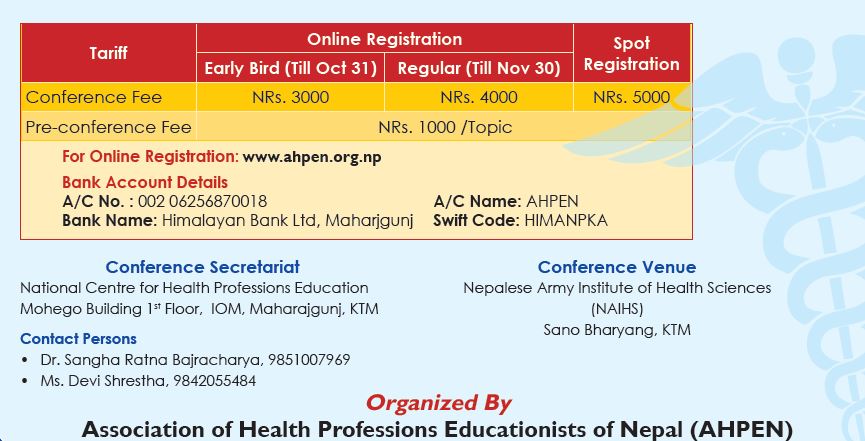 About AHPEN
Association of Health Professions Educationists of Nepal (AHPEN) was established in December 2015 and is a non-profitable, non-political and non-governmental organization, which aims to ensure quality Health Professions Education in Nepal together with provision of support for promotion of research activities and healthcare services in Nepal. At the same time, the AHPEN anticipates to play the role of a national body for bringing about innovation in Health Professions Education and provide support for educating competent Human Resources in Health for working in Nepal and the global market.
DOWNLOADS:
Information about First National Conference of AHPEN.pdf