Kathmandu Forestry College announces admission for M.Sc. Natural Resource Management and Rural Development (NRMRD) for academic session 2075-2077.
Application Form Submission Date:
Chaitra 1, 2075 to Baishakh 13, 2076 (15 March - 26 April, 2019); with normal fee
Up to Baisakh 17, 2076 (April 30, 2019); with late fee
Entrance Examination Date: Baishakh 21, 2076 (4 May, 2019)
Exam Time: From 1:00 PM to 3:00 PM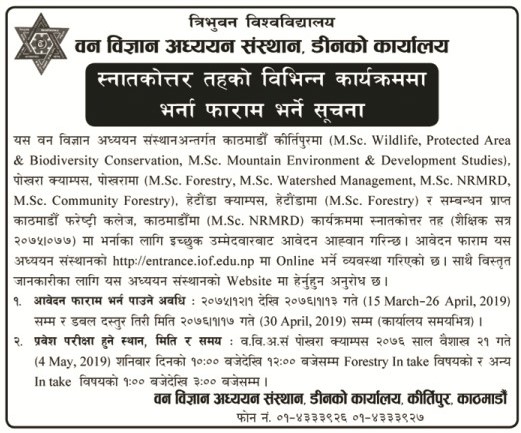 Eligibility:
An applicant must have at least a 3 years B.Sc. Forestry degree or B.Sc. Natural Resource management or B.Sc. Environmental Science or B.Sc. Environmental Management or B.Sc. Agriculture or B.E. (Agriculture Engineering) from T.U. or any university recognized by TU.

For further information, contact to
Kathmandu Forestry College
Tel: 01-5147211
Email: mail@kafcol.edu.np,
Url: www.kafcol.edu.np