Service Commission of Purbanchal University announces various vacancies to be fulfilled by Open Competition (Academic & Administrative) among eligible faculties and or administrative staffs.
Application form submission deadline: 8th Magha, 2074 (up to 2 pm)
Application form submission with double fee; Up to 15th Magh, 2074 (up to 2 pm)
Form Fee: Rs. 1500
Salary: As per existing rules of Purbanchal University
Minimum eligibility: Passed Masters level in the related subject securing at least second division
Updated : 2074/09/08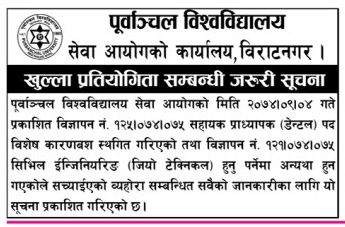 For detail information regarding eligibility, required documents etc, please view the notice below.