Purbanchal University announce faculty requirements in the constituent campuses on a contract basis and calls for applications from the eligible Nepalese citizens with the filled-up forms to be submitted at the Dean office, Purbanchal Universiy, Biratnagar.
Required documents : Bank voucher of the paid form fees, Biodata, Certified photocopies of academic qualification, certified photocopies of experience certificates, certified photocopy of the Citizenship Certificate, Two passport sized photos.
Examination type: Interview
Interview Fee: NRs 3800 for the post of Associate Professor and NRs 3200 for the post of Assistant Professor should be deposited in the Purbanchal University's A/C no (check the formal notice below).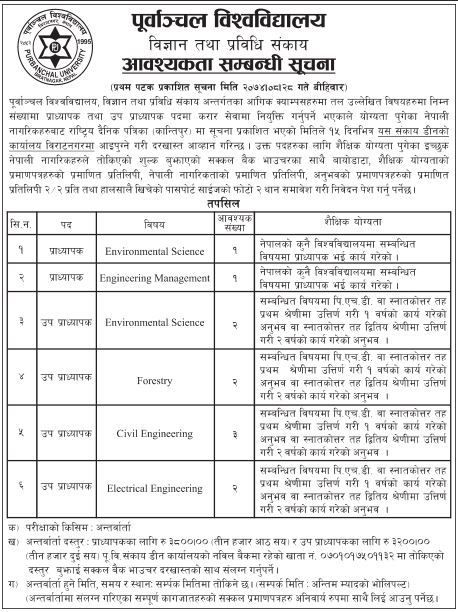 Interview date: the date will be specified on the contact date
Contact date: The next day of the deadline for submission of forms
All the original documents of academic qualification included in the application should be brought on the date of interview.