BREAKING THE BRACKET, a writing fellowship programme that aims to create a new wave of feminist writings in Nepal has opened its application.
Eight to ten fellows will immerse themselves in reading seminars, writing residencies and at the end of the programme the fellows will produce a substantial work that will be considered for publication in an anthology. Prospective applicants should be between 18 to 30 years of age who have not published a book length work, and can have English and/or Nepali as their language of preference.

The call for applications emphasises that preference will be given to women, trans and intersex writers. The fellowship will be fully funded and travel grant will be provided to writers coming from outside of the Valley. The fellowship programme is supported by a grant from the South Asian Women's Fund (SAWF).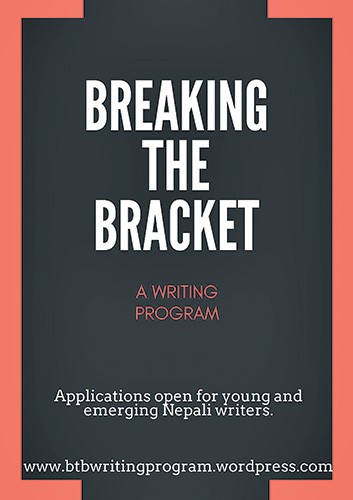 Eligibility:
Writers must be between the ages of 18 to 30 and must not have published a full-length book of their own.
Writers must be of Nepali origin and must have lived in Nepal during their adolescence.
Writers must be residing in Nepal for the year of 2018 and must be willing to participate in all activities of the program.
Preference will be given to women, trans* and intersex writers.
Writers must complete all components of the application process and submit it by 28 March, 2018.