University Grants Commission has invited application/proposal for various research grants and supports for higher education institutions, teachers and students for this year (FY 2075/76).
विश्वविद्यालय अनुदान आयोगले आ.व. २०७५/७६ को विभिन्न अनुदान कार्यक्रमको लागि उच्चशैक्षिक संस्था, शिक्षक र विद्यार्थीबाट आवेदन/प्रस्ताव आह्वान गरेको छ ।
Deadline to Submit Application Form: Poush 25, 2075 Wednesday, Up to 4 PM (January 09, 2019)
Research Grants
1. For Students:
(a) PhD Fellowship and Research Support Grant
(b) MPhil Fellowship
(c) Masters Research Support
(d) MPhil Research Support.
2. For Teachers:
(a) Collaborative Research Grant
(b) Faculty Research Grant
(c) Small Research Development and Innovation Grant
(3) For Educational Institutes:
(a) Research Management Cell Grant
(b) Grant for organizing training/workshop for teachers
(c) Grant for organizing local/national conference/seminar
(d) Visiting Professor Support
(Note: For organizing international conference, application for grant can be submitted throughout the year)

(4) Applications that can be submitted through out the year:
(a) Postdoctoral Fellowship
(b) Partial Support for PhD Fellow
(c) Research Support for students with disability
(d) Reimbursement of publication fee of research article
(e) Financial Support for Peer-Reviewed Journals
(f) Conference Travel Grant
(g) Support for Conference (International)
(h) Special research/study visit in SAARC countries (Other countries are not eligible)
(i) Manuscript submission to the Journal of UGC
(j) Letter of Intent for QAA
Downloads:
1. UGC Research Guidelines 2017 (for all research grants)
2. UGC Annual Program 2074 (for Conference, Travel/Visit and Training)
Find the official notice below: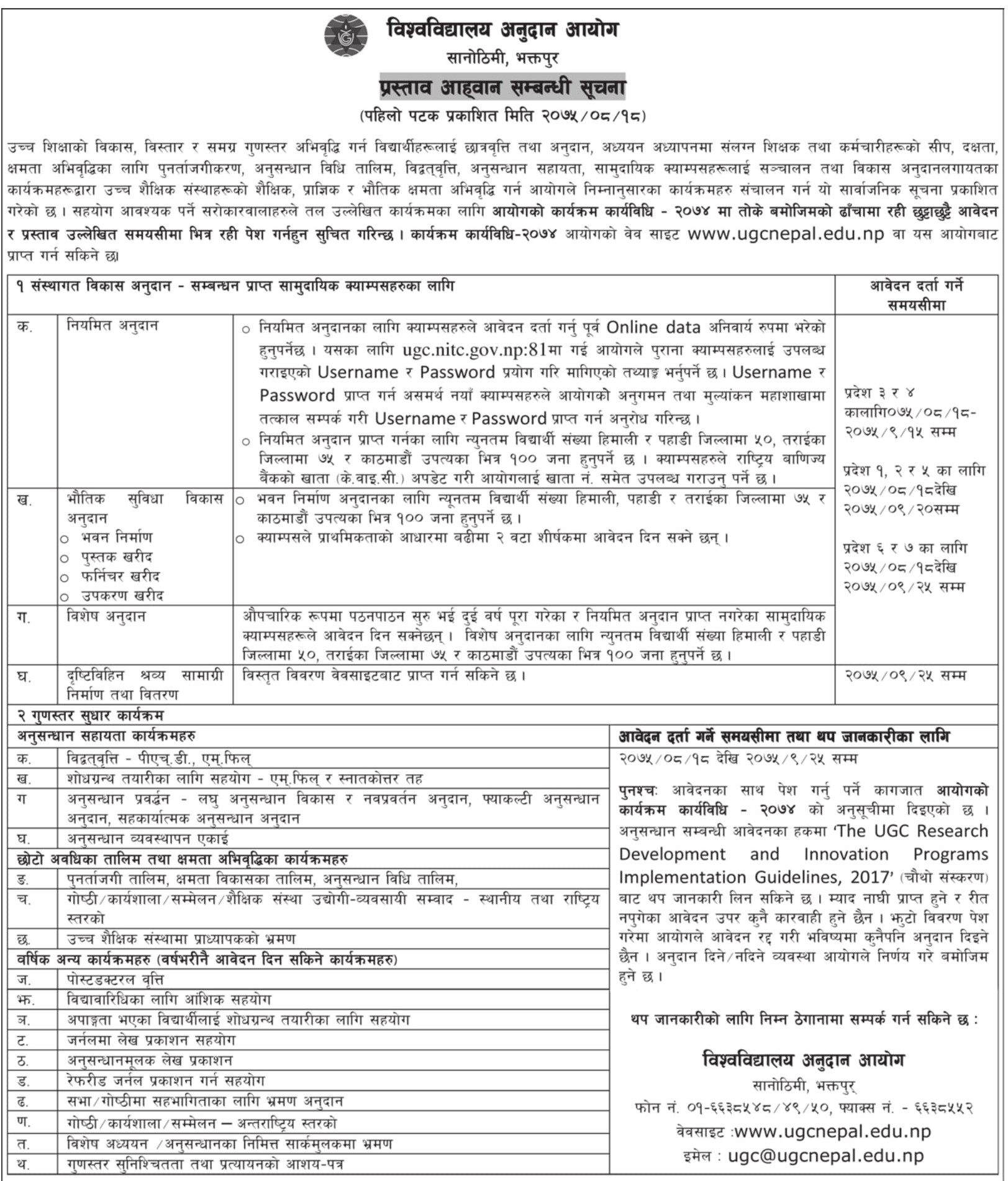 For Further Details Contact:
1. UGC Planning and Program Division
Phone: 6638548, 6638549, 6638550, 6638551 Ext. 122, 123
Mail: [email protected]
2. UGC Research Division
Phone: 6638548, 6638549, 6638550, 6638551 Ext. 124, 132, 131
Email: [email protected]