Government of Nepal, Ministry of Agricultural Development, National Agricultural Research and Development Fund, Singhadurbar-Plaza, Kathmandu today announces applications from eligible candidates for the "Thesis Research Grant".

Students who are pursuing Masters or PhD in Agriculture Science (Agriculture, Veterinary, Animal Science, Animal Husbandry Food, Medicinal Herbs) in Nepal are eligible to applly for this grant. Students must have finished the theoretical subjects and are in the process of starting thesis but have not got any grants from other sources are eligible to apply for this grant within 30 days of publication of this notice.
Last date for application: 2074 Mangsir29.
For detail information view this official notice and download the accompanying documents.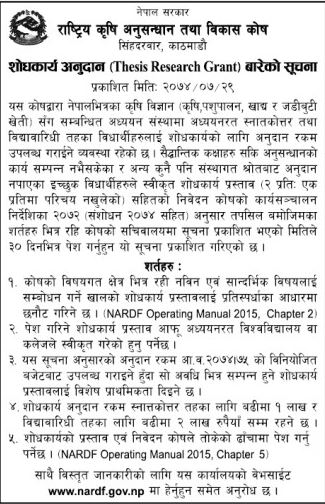 DOWNLOADS
Guidelines for Preparation of Thesis Proposal.docx

Project and Thesis Grant Agreement Format.docx