Nabil Bank has instituted the country's first-ever annual 'Nabil Science and Technology Awards' to be conferred by Nepal Academy of Science and Technology (NAST).
Under these awards, the four best research contributors in various fields in the development of science and technology will be awarded by NAST, as per a press statement issued on Friday.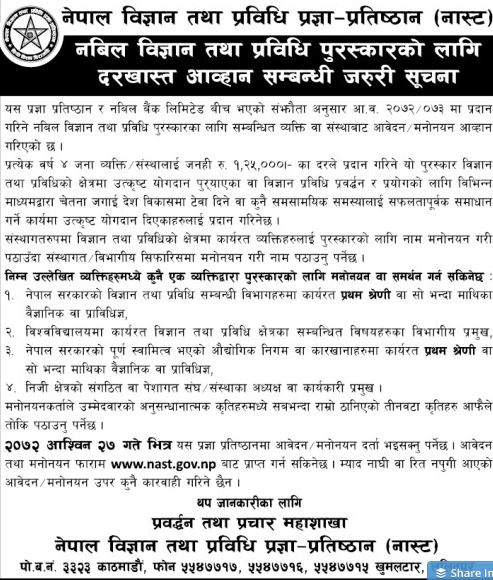 Application deadline: Ashwin 27, 2072
The awards carry a purse of Rs 125,000 each to be given annually to individual scientists or institutions demonstrating a positive impact on humanity with the prospect of instant use in the field of science and technology. In addition to the awards, Nabil Bank will also contribute another Rs 100,000 to NAST to meet administrative costs.
The objective of the awards is to recognise and duly reward talented scientists and institutions working in the field of science and technology to encourage them to deliver much more to enhance scientific and technological capability of the nation. The awards selection process will be fully handled by a team of scientific experts and academicians under the aegis of NAST. These awards are expected to be highly respected and sought after awards in the country.
Sashin Joshi, CEO of Nabil Bank and Jib Raj Pokharel, vice chancellor of NAST, signed an agreement confirming Nabil Bank's support for the Nabil Science and Technology Awards on Tuesday, the statement adds.