Fusemachines (fuse.ai) is an online learning platform which is an initiation to help the aspiring Artificial Intelliegence (AI) learners to prepare for a career in the AI affiliated fields. Not only in career of IT but in also in basic AI knowledge. Fusemachines is seeking an application for Artificial Intelligence scholarship of 6 months duration to learn about AI from the range of basic to advanced AI related courses for a selected number of candidates.

Fusemachines Inc., adhering to democratize AI mission, is working on production of AI solutions through education and service. More than 100 highly qualified engineers are working with Fusemachines to build sophisticated AI systems.
Total Seats: 10,000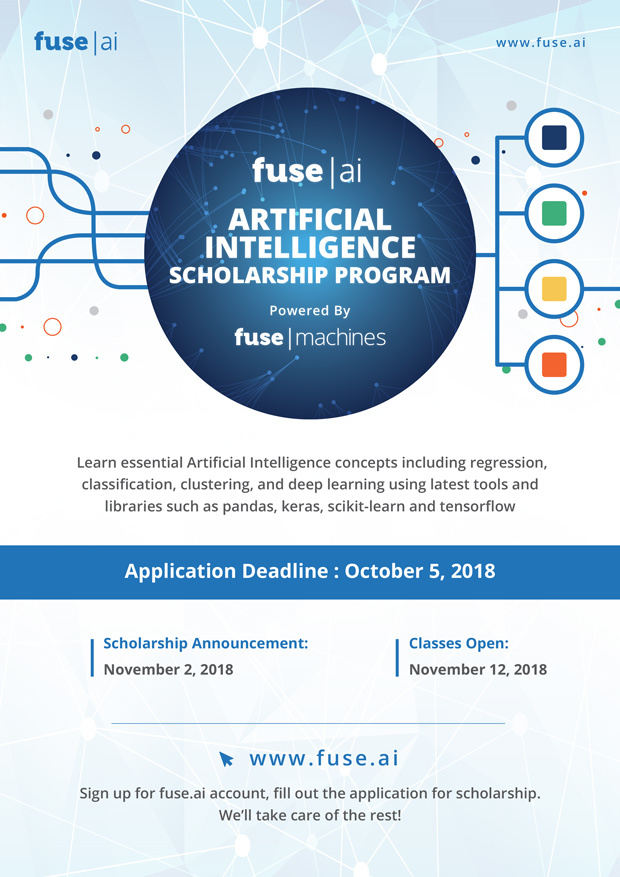 Purpose:
To provide learning opportunities for those who are looking to gain basic to advanced knowledge of AI and its sub categories.
To bring the education to wider range of population across the globe.
Features:
Exclusive contents
Active guidance
Resources from Columbia University
A part global Artificial Intelligence (AI)community
Eligibility:
Anyone over 18 years old. Preference to students of Computer Science and Technology.
Click here to apply for Fusemachines Artificial Intelligence Scholarship
Selection Process:
Selection will be done based on application strength.
Expected Outcomes:
Selective candidates will able to get skills in Essential Artificial Intelligence concepts including regression, classification, clustering, and deep learning using latest tools and libraries such as pandas, keras, scikit-learn and tensorflow.

Key Dates:
Application Deadline : October 5, 2018
Scholarship Announcement: November 2, 2018
Classes Start: November 12, 2018
For further information contact to,
Fusemachines
Email: info@fusemachines.com