Scholarships Provided By: Government of Nepal, Ministry of General Administration (MoGA)

Total seats: 300 (4 students; 2 male, 2 female from 75 districts)
Scholarships amount: Rs. 5000 per month (for 2 years)
Eligibility: Students who have passed SLC or equivalent examination in 2072 BS from Government or Community school and secured at least second division marks. Students must be pursuing +2 study inside Nepal.
Related Scholarships: Bachelor Level Scholarships for Children of Nepal Government Employees
Scholarships quota: 2 male students and 2 female students from each district who have secured highest marks. These students must be son/daughter of in-service or retired employees.
Scholarships Subject Areas: + 2 study inside Nepal.
Government of Nepal, Ministry of General Administration (MoGA), Singha Durbar, Kathmandu has published an urgent notice through its Children of Government Employees Scholarships Management Committee (Nijamati Karmachari Santati Chhatrabriti Byabasthapan Samiti for Plus two level scholarships.
For more information see the notice below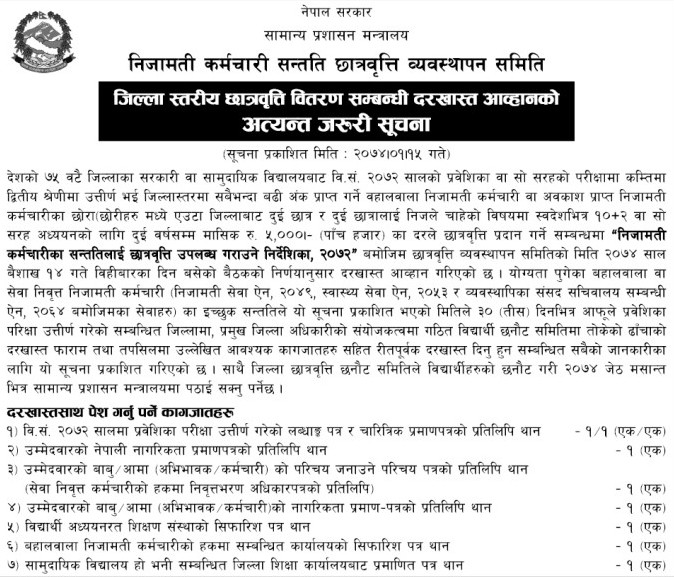 First Publication Date of the Notice: 2074/01/15
Last date to apply for the scholarship: 30 days from the first publication – 2074/02/15