Shree Narad Adarsha Education Campus was established in 1971 as a Secondary School and subsequently upgraded as a Campus in 2003. The Campus is affiliated with the Tribhuvan University (TU) and offers 4 years Bachelor of Education (B.Ed.) program.
Dr. Narayan Khadka, an honorable Member of Parliament, inaugurated Shree Narad Adarsha Education Campus at Chaudandigadhi Municipality in Udayapur District on Saturday. The chief guest who attended the inauguration ceremony was Dr. Ajay Kumar, Deputy Chief of Mission, Embassy of India.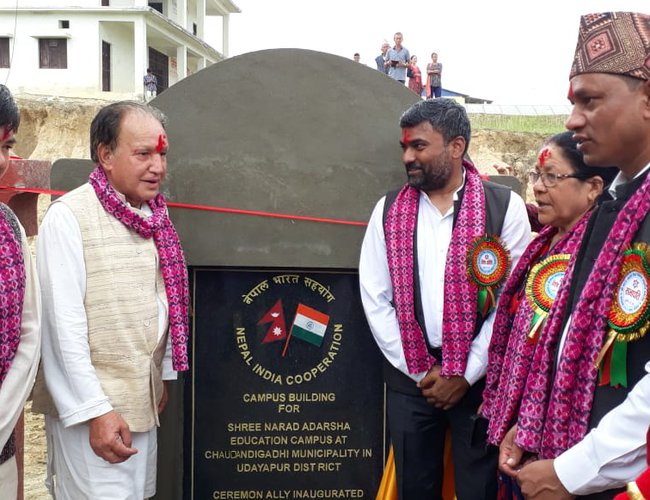 The campus building and its infrastructure was endowed and furnished by Government of India's grant assistance of NRs. 30.20 million. The building stands two stories high comprising of a dozen classrooms, well-facilitated library, spacious meeting all and clean toilets separated into male/female sections.
Infrastructure of the campus enable an ambiance that is resourceful and a thrust into an efficient teaching-learning practice. It is a wonderful space where even the students from remote areas can come and have a full-fledged education that can shape their bright futures. The campus is accessible to people from Udayapur and adjoining districts, including Bhojpur, Khotang, Sunsari and Saptari.