7.8 Richter scale of massive earthquake hit Nepal destroying thousands of ancient monuments, homes, buildings and temples, and killing more than 1,400 people so far.

Nearly hundreds of strong aftershocks have been felt within 20 hours of initial major quake. Everyone are scared and worried and living in open spaces, tents in groups abandoning their homes, which they have built and felt unsafe to live within.
Nine-story Dharahara Tower, one of Kathmandu's landmark has been completely destroyed in the quake. The Patan and Kathmandu Durbar Squares, two of the Kathmandu valley's three royal squares that are UNESCO World Heritage sites, also look to have suffered extensive damage.
The quake occurred at the boundary between the two pieces, or plates, of Earth's crust, one of which supports India to the south and the other Eurasia to the north. The Indian plate is moving at 45 millimeters (1.7 inches) a year under the Eurasian plate, and this results in earthquakes once every 500 year on an average, said Marin Clark, a geophysicist at University of Michigan, Ann Arbor.
Press release of Ministry of Home affairs Nepal: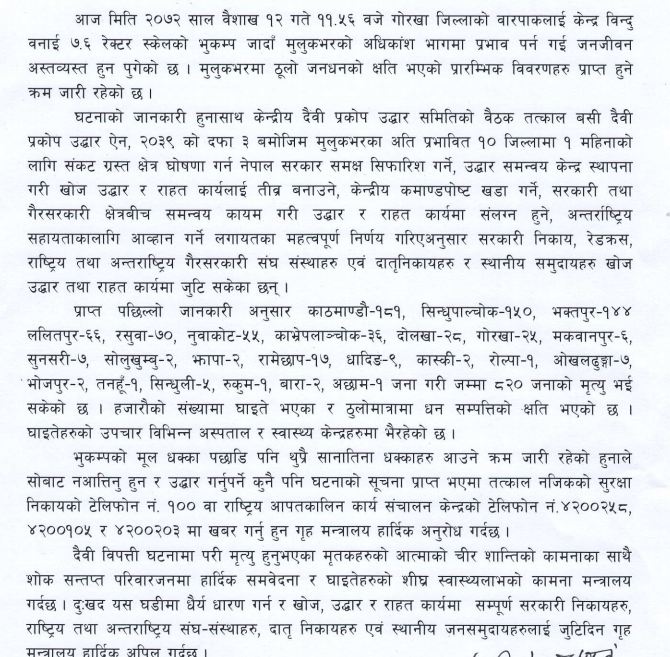 An emergency meeting headed by Deputy Prime Minister and Minister for Home Affairs Bamdev Gautam declared the national crisis and urged all to engage in rescue efforts. The government also decided to mobilise all state agencies including bureaucracy and security bodies at this moment of national crisis.

गृह मन्त्रालयले दिएको आपतकालीन फोन नम्बर 4200258, 4200105, 4200203 सूचनाका लागि प्रहरीको फोन नम्बरहर 4412788, 4411549 , 4415597