Kathmandu, July 10- CCA School of Accountancy have been accredited with Gold Approved Learning Provider by Association of Chartered Certified Accountants (ACCA) UK. This Gold status is granted only to high-quality tuition providers that ACCA is confident to recommend to students after assessing each school against challenging quality assurance measures and performance indicators.

The Campus have been awarded the Gold status which reflects CCA's continuous commitment to its students. "We are very proud to be recognised by the ACCA for the quality of tuition provided to our students. We are determined to offer the best standard of tuition possible to our students", as said in CCA BOD members Statement.
CCA strives to assure students will get the best tuition for their ACCA courses, and works with some of the leading ACCA tutors in the country. CCA's ACCA faculty has been rated highly not only by ACCA standards but also by students, who evaluated them as excellent in the latest satisfaction survey with many tutors achieving ratings between 85% and 90%.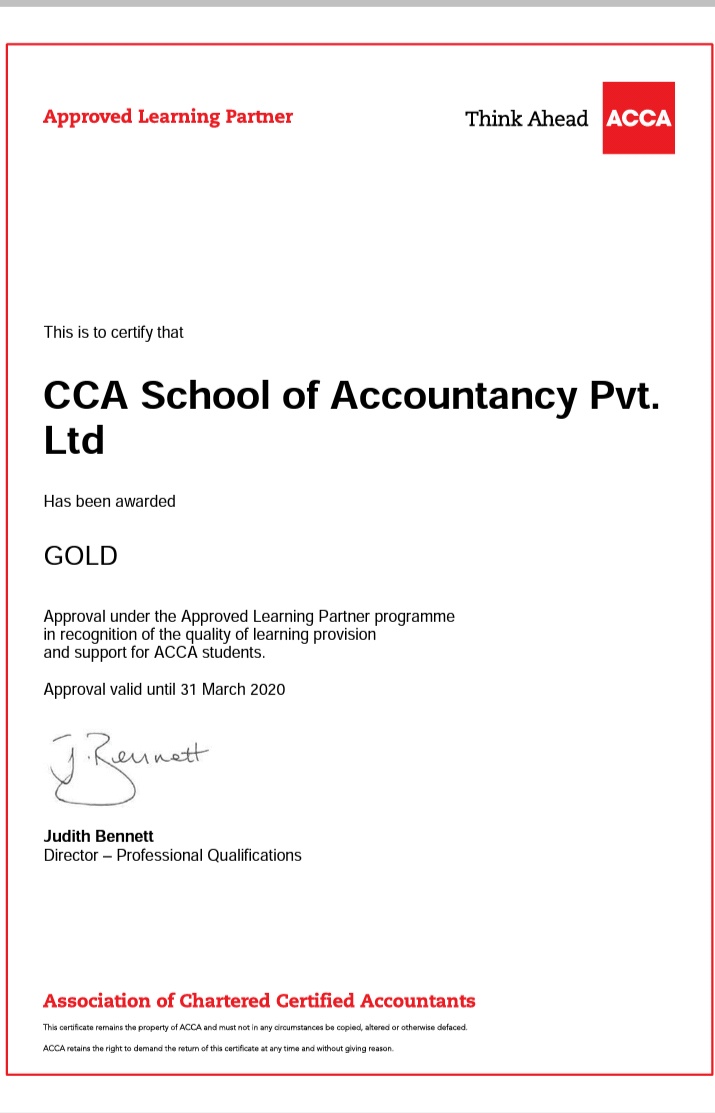 This have become effective as we identify the under performance of students early and put improvement action so that students can be on track early." Says Mr. Govinda, Managing Director of CCA.
Mr. Bikrant who have been teaching ACCA Financial Reporting and Strategic Business Reporting for over 11 years at CCA says "Because of the CBE exams in Applied Skills Level, we have changed way of traditional teaching to Modern Way of teaching by making practice all our students to do all tasks in Laptop.
We have tried to remove paper and pen approach as Now there is no exam that need paper and pen in Applied Skills Level. Practising this way will give the students more chance of Passing than not following this method. Similarly, this will also help students in Strategic Professional Level which is going to be CBE."
CCA was established in 2006 by a team of professional accountants who is working in diverse fields in different industries. CCA have consistently acheive high pass rates over this 13 years of Journey. "Our Pass rates is markable for most of the ACCA papers for each Exam sittings with pass rates going above the Global averages. We continually strive to provide quality education to make our students excel ACCA exams on first time. Our aim is to provide international level ACCA tuition quality in Nepal and this is reflected in our pass rates" Says Mr. Shubham, a member of ACCA Qualification Technical Team at CCA.
He also added "We not only help our students pass the exams first time but also place them in Top Big Four Affiliated Audit firms in Nepal for fulfilling their 36 months Practical experience requirements and even if they want to start their career in Industry, we are placing them in industries through our Own CCA Placement Cell."
Extra support
CCA is constantly developing new ways to support students outside the classroom in addition to Classroom to provide them with the best ACCA preparation and experience. One of the free tools created for CCA and other ACCA student is the Facebook page-ACCA at CCA , which provides Recent Vacancies in Nepal and Foreign, free study resources, notes, podcast, exam tips, study blogs, discussions and past paper analysis to all Facebook fans.
The ACCA at CCA Facebook page has recently reached over 18000 fans, which includes a large international community as well as CCA students. Since 2011, CCA has been engaging directly with its fans through this page and offering a large support network where students can share experiences and keep themselves up to date with industry news, current finance and audit issues and ACCA developments.
Other extra CCA Supports are offered from Websites under study blogs and students section for practice, Viber and Whats App in addition to Classrooms. CCA School Of Accountancy is located at Trinity House, 5th Floor, Putalisadak, Kathmandu. You can contact CCA at us at 014240913, 9801165757.