Nepal's oldest and largest University, Tribhuvan University has recently published it's affiliation policy. A 9 member committee formed with the coordination of Prof. Prahladraj Pant has prepared this policy paper.

Tribhuvan University was widely criticized for giving affiliation to college in haphazard manner and not being able to monitor and ensure the quality of education in affiliated colleges.
Tribhuvan University which bears more than 88% responsibility of offering Higher Education in Nepal offers Bachelor to PhD, DM, MCH program through 1083 institutions.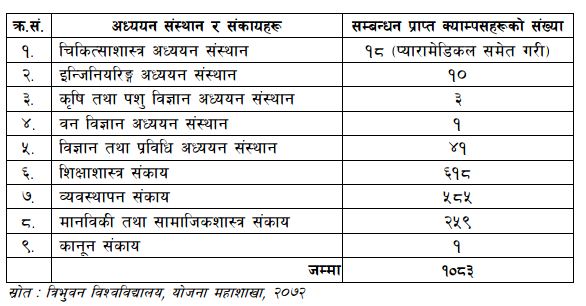 These institution offers various programs under different faculties with affiliation from Tribhuvan University. In the academic year 2071/72; approximately 4,36,781 students enrolled in Tribhuvan University.
To get detail information about newly formed affiliation policy of TU; download the PDF below