NEXT Hackathon 2019: NCIT Expo on Technology is a 3 day event organized by Nepal College of Information Technology- NCIT that is going to be held on July 18th, 19th and 20th 2019 (Shrawan 2nd, 3rd and 4th 2076). This event is the first and the biggest ever technological fest in the history of NCIT.
NEXT Hackathon is a competitive platform aiming to generate innovative solutions to real-world problems in a risk-taking environment. This is a 3-day event targeted to tech-enthusiasts interested in molding their ideas into viable products and introducing them in front of the experts working in this very field.
Themes will be provided to participant 3 days before the event through e-mail. Additional details, including rules and regulations, will be provided to participants once registration is confirmed.
Participants who can get benefited from this event include:
Graduate and Undergraduate students from various universities
Engineers and engineering students
IT students
Consultants
General Public
Technical Professionals
Technical Organizations
Industries
Participants can witness many innovative minds from different colleges and students from all over the country.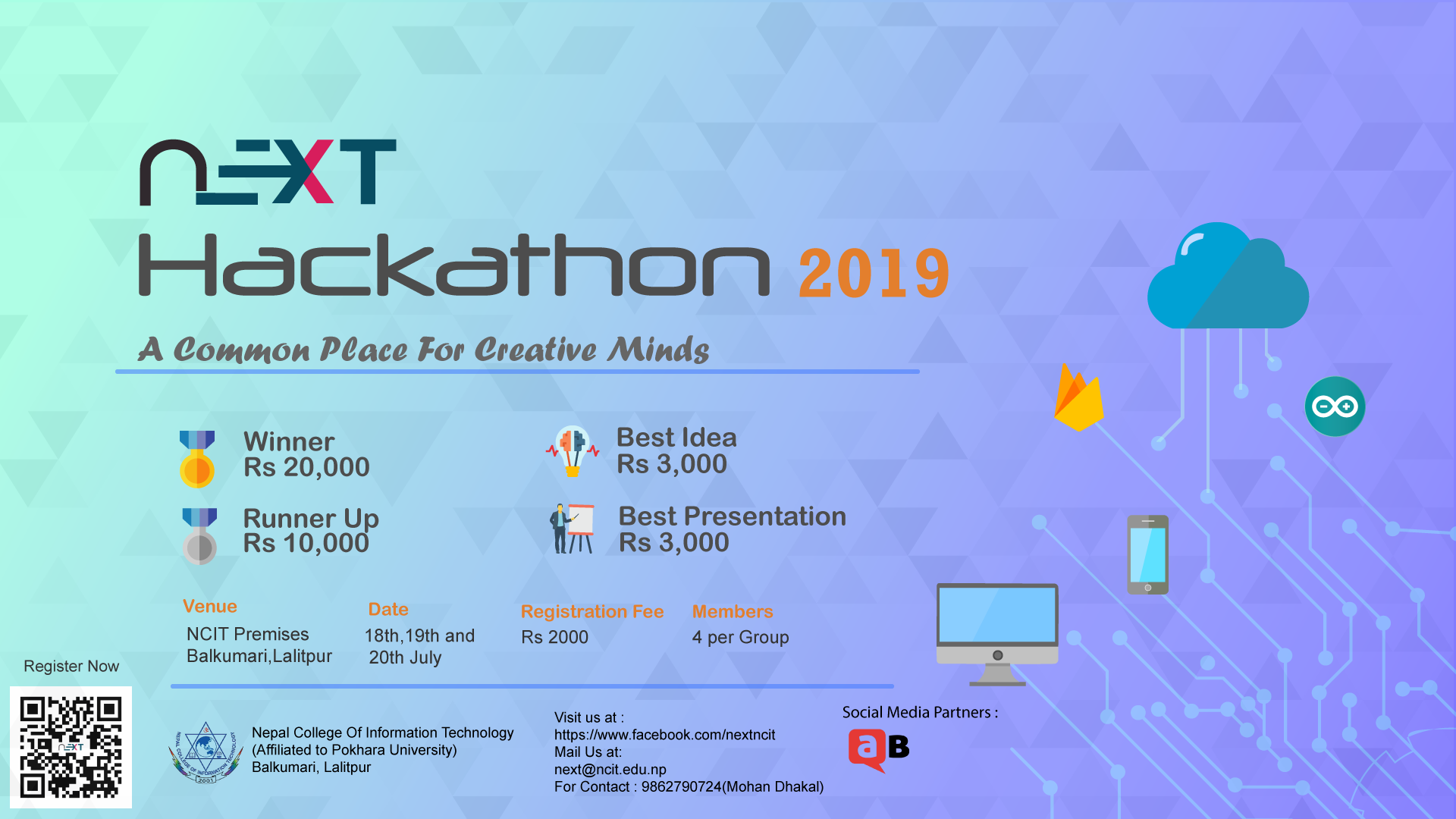 Hackathon Format

NEXT hackathon is scheduled into 3 days as follows:
Day 1
Idea Presentation
Research, idea mentoring and implementation
Day 2
Implementation and mentoring
Day 3
Presentation
Prize distribution
Entry Fee
The entry fee per team is NPR 2000
Maximum of 4 members are allowed in a team.
Prizes and Certificates
Winner: NPR 20,000 and a Certificate
Runner Up: NPR 10,000 and a Certificate
Best Idea: NPR 3,000 and a Certificate
Best Presentation: NPR 3,000 and a Certificate
Certificate of appreciation will be given to all the participants

Event Details:
Date: July 18, 2019–July 20, 2019
Time: 8:00 AM–5:00 PM (July 18–19, 2019)
7:30 AM–12:30 AM (July 20, 2019)
Venue: NCIT College, Balkumari

Deadline
The deadline for form submission is July 12, 2019.
Hackathon, along with all the activities of the NEXT 2019, will be organized at NCIT College, Balkumari.
For more details: Click Here

For more information, please contact:
Madhav Gautam
+977 9867681865
[email protected]
Mohan Dhakal
+977 9862790724
[email protected]
Shreeja Shrijan Shrestha
+977 9861523114
[email protected]