The modern school started in Nepal when Rana Prime Minister Junga Bahadur Rana established Durbar High School in 1892 A.D to educate the members of the Ruling Family.
Education was finally opened to the general public with the establishment of democracy in the country. Nepalese Education is a three-tier education system from Primary School to University.
According to the latest Educational Act the Schooling in Nepal comprises of two levels, Basic Level Education (BLE) and Secondary Level Education.
The Basic Level Education (BLE) spans from Nursery to Grade 8 consisting of Primary Level (Class 1 - 5) and Lower Secondary Level (Class 6 - 8) while the Secondary Level Education offer four more years of education ( Class 9 -12) which concludes with results of Grade 12. Earlier secondary education was of only up to grade 10 and used to conclude with School Leaving Certificate Examination (SLC).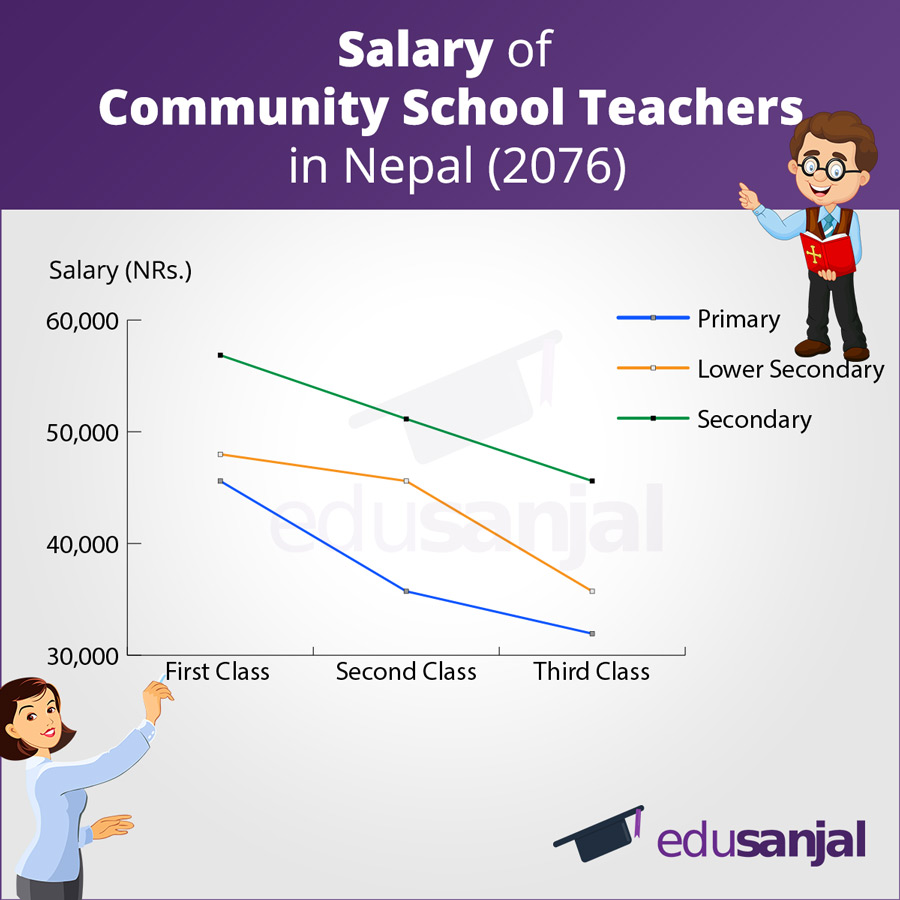 In addition, Early Childhood Development (ECD) /Pre-primary Classes (PPCs) are offered as preparation for Grade one. Broadly, schools are categorized into two types: community schools (supported by government of Nepal) and institutional schools (supported by parents and trustees).

Community schools have three sub-categories:
Community-aided (fully supported by the government for teacher's salary and other expenses),
Community-managed (fully supported by the government for teacher's salary and other funds but their management responsibility lies with the community) and
Community-unaided (getting either partial or no support from the government).
The table below gives information regarding salary of teachers which is given by Government of Nepal. This salary may not represent the salary of teachers in Boarding schools and other community managed schools.
This salary is effective from Sharwan 1, 2076
S.N

Position/Level

Starting Salary

No of Grades

Rate of Grade

Total

1.

Secondary (First Class)

47,380

6

1,579

56,854

2.

Secondary (Second Class)

40,380

8

1,346

51,148

3.

Secondary (Third Class)

35,990

8

1,200

45,590

Lower Secondary

4.

Lower Secondary (First Class)

37,880

8

1,263

47,984

5.

Lower Secondary (Second Class)

35,990

8

1,200

45,590

6.

Lower Secondary (Third Class)

28,200

8

940

35,720

Primary

7.

Primary (First Class)

35,990

8

1,200

45,590

8.

Primary (Second Class)

28,200

8

940

35,720

9.

Primary (Third Class)

26,610

6

887

31,932

10.

Failed SLC in Two Subjects

22,010

6

734

26,414

11.

Failed SLC in more than Two Subjects

20,680

6

689

24,814