Rastriya Banijya Bank (RBB) announces Golden Jubilee Scholarships-2074. Students representing endangered and highly marginalized indigenous populations (Kusunda, Bankariya, Surel, Hayu, Raji, Kisan, Lepcha, Meche and Kuswadiya) can apply for this scholarships program.
Scholarships amount:

For Certificate Level: Rs. 3500 per month for whole study period
For Bachelor Level: Rs. 5000 per month for while study period
Eligibility
For Certificate level: Passed SLC from Nepal and currently enrolled and studying grade 11.
For Bachelor level: Currently enrolled and studying Bachelor level first year.
For more information regarding the process, documents required and other important information, please read the notice below and/or download the attachments (PDF) files.
Email address: [email protected]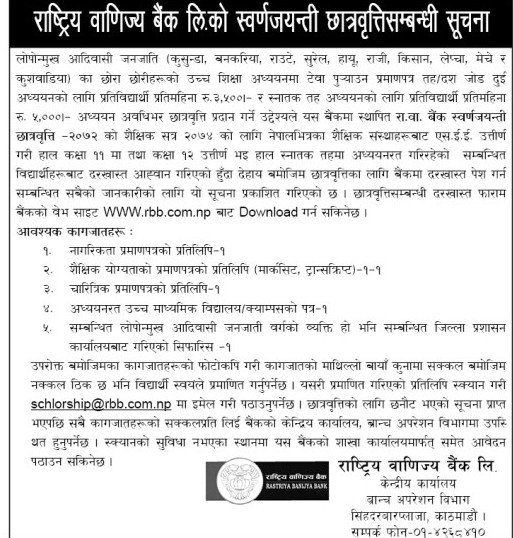 Downloads:
RBB Scholarship_Application_Form.pdf