Nepal Chamber of Commerce, in collaboration with LBEF CAMPUS has called for the "National Business Scholarship" to study study BA (Hons.) Business Management specializing in E-Business at LBEF CAMPUS to each female students from seven provinces of Nepal.

The objective of the scheme is to award scholarships to meritorious students belonging to economically weaker sections of the community so as to provide them better opportunities for higher education, increase their rate of attainment in higher education and enhance their employability.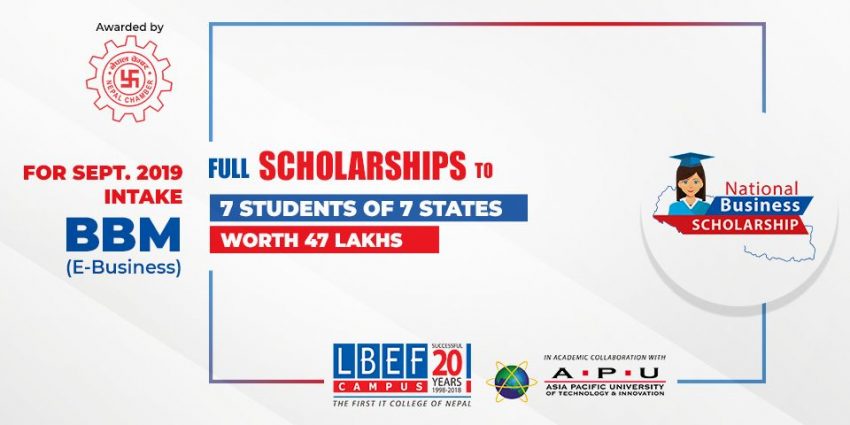 The scholarship will be awarded to study BA (Hons.) Business Management specializing in E-Business at LBEF CAMPUS under Asia Pacific University. Student who have completed 10+2 or equivalent from recognized board can apply for the scholarship. Female students will be most benefited by this scheme and the reason to do so is to further the educational opportunities of young women of future generations.

Types of Scholarship:
SN
NAME OF
SCHOLARSHIP
SCHOLARSHIP SCHEME
TOTAL
COURSE FEE
SCHOLARSHIP
AMOUNT
FEE TO BE
PAID
NO OF
SCHOLARSHIPS
TOTAL SCHOLARSHIP
AMOUNT
1
Uddamshil
100% (Female Only)
6,65,000/-
6,65,000/-
0
7
46,55,000/-
Total
46,55,000/-
Eligibility:
Scholarship will be awarded to the students who have secured not less than 50% marks or equivalent grade in the previous final examination. Student must have scored more than 50% marks in Mathematics at Grade-X level too.

All the interested students should apply online.
Last Date to apply: Saturday, Shrawan 32, 2076 (August 17, 2019)
Selection Process:
A committee of 5 members will be formed to select the right candidate. Based on their previous qualifications, economical condition and recommendation letter marks will be awarded. If required, committee can also conduct a interview (face to face or telephonic) to take the right decision. Marking scheme to award the marks can be as follows:
• Performance at Grade-X : 25 Marks
• Performance at Grade-XII : 25 Marks
• Place of Living : 10 Marks
• Economic Condition : 20 Marks
• Recommendation from Local Authority : 20 Marks.

Duration and Rules
Scholarship will be provided for the entire course. The continuation of Scholarship to the eligible student in the second and subsequent semesters will be as per the rules and regulations.

Eligibility Criteria 1: Clear promotion to the next semester in first attempt with pass in all papers of the previous semester including internal examinations/tests.
Eligibility Criteria 2: Attendance should be above 85% in previous & current semester.
Scholarships will not be given to more than one student in a family.
Any undisciplined/unprofessional behavior from the student can also lead to the cancellation of scholarship.
If a student violates any other term and condition of the scholarship, the scholarship may be suspended or cancelled.
If a student is found to have obtained a scholarship by false statement/certificates, his/her scholarship will be cancelled forthwith and the amount of the scholarship provided shall be recovered at any time of entire course duration.
Documents to be uploaded at the time of form submission:
Photo
Recommendation letter from the local authority
Birth Certificate
Scan copy of Grade-XIth & XIIth Marks Card
Scan copy of Grade-Xth Marks Card
Admit card of Grade-XII (Incase of appearing students)