DEPROSC - Nepal, is one of the leading non-government, not for profit, development organizations in Nepal which aims at enhancing the socio-economic development of marginalized and disadvantaged groups.
DEPROSC-Nepal's Silver Jubilee Academic Award, DEPROSC – Nepal is seeking an application from Nepalese citizen who is active, commendable, qualified and have interest to make impact in the field of development sector and are requested to apply for the scholarship by Ashwin 18, 2075 (October 04, 2018).
Eligibility
Should be full time student studying in Nepali University.
Hold Nepali citizenship.
Proposed research site should be within Nepal.
Grant information
The grant amount of 1,01,000.00 (In words. NRs. One lakh and one thousand only) will be provided to one selected student.
Other official documents to be submitted
A duly filled application form
Curriculum vitae (CV) of the student with detailed contact address and phone number
An official approval letter of Head of Department or Supervisor from respective department or college with a valid authorized signature and mentioning the title of the proposed research.
Copy of certificates of past degrees,
Copy of student's identity card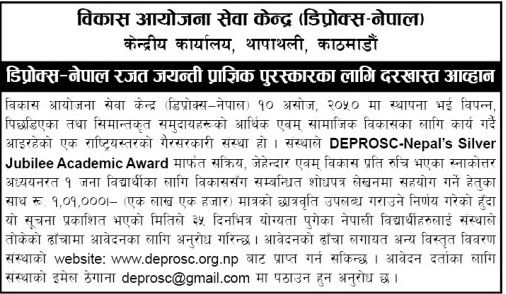 Downloads