YES! Club World Nepal which is regarded as possibly Nepal's only Kids, Teens, Young and Adults Club of largest volunteer based NGO The Art of Living recently partnered with Glocal Pvt. Ltd. for its 3rd edition of Glocal Teen Hero and also for Glocal Teen Conference. Both the entities signed a memorandum of understanding to encourage large participation of teenagers for Glocal Teen Hero 2017. Youth Activist Gaurav Kandel also the Founding initiator of View Your Choice extended the collaboration to showcase positive influencing stories of teenagers as well as Glocal Teen Heroes through its blog platform www.viewyourchoice.org. View Your Choice has been producing positive influencing stories and showcasing aggregators of change through its platform as well as involved in several development campaigns including recent CNN Super Hero Campaign.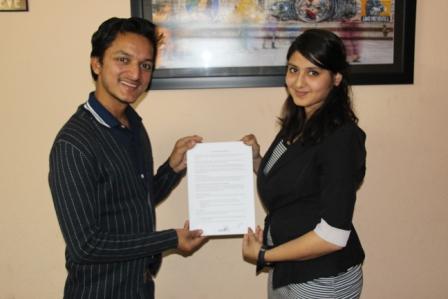 YES! Club World – Nepal has reached out to thousands of teenagers via its workshops All Round Training In Excellence, Youth Empowerment Seminar and through its regular Club initiatives at its centres all across Nepal as well as through its collaborations at several schools, high schools and colleges since its inception in 2009. Gaurav Kandel, Program and Projects Coordinator who leads the initiative shared, "Teenagers here in Nepal or abroad have already proved for their amazing abilities with their intuitive nature and ability and we should be a catlyst to encourage and motivate them through workshops as well as simialr initiatives like Glocal Teen Hero." He added, "Glocal motivating them by not just awarding these Teen Heroes but also acknowledging them as ambassadors is really exemplary." YES! Club World Nepal has too been awarding kids and teenagers as Bal Utsav – Celebrating Talent – Ambassadors in Music, Arts and Dance every year who then these ambassadors work to organize the following year in January.
Initiatives like Glocal Teen Hero breaks the notion here in Nepal of empowering young people that has core been focused on young adults and not especially on teenagers who are really thoughtful, creative, innovative and with great talent who need proper guidance and metorship along with motivation. YES! Club World – Nepal has been partnership with schools to motivate teenagers as well as kids and build their intuitive quality through its workshops and club initiatives that are run across 155 countries through The Art of Living Foundation.