Nepal Medical Council (NMC) has published an urgent notice regarding examination schedule of NMC Licensing Examination and Special Examination for the year 2074 and announces application from eligible candidates.
Updates- 8th Magh, 2074.
Nepal Medical Council has scheduled special examination for post-graduate doctors on March 10 this year. In a notice issued by the council on Monday, applicants were requested to submit online forms to sit in the examination.
As per the instructions provided, the online form can be filled up by logging into exam.nmc.org.np. Online application submissions will be accepted from January 23 to February 21.
Applicants can also submit applications online on February 22 and 23 by paying a late fee. Any doctor who has completed his/her Master's degree has to sit for the examination.
"The exam is taken thrice every year to ensure quality standards. Only doctors passing the examination will get the opportunity to be registered as specialists. Those who fail the exam will limit themselves as MBBS doctors," said Dr Dharma Kanta Baskota, chairman of Nepal Medical Council. "This test will make sure foreign degree holders' too are competent and skillful," said Dr Baskota.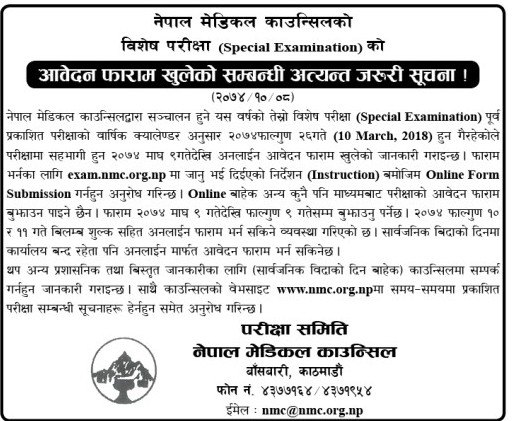 Dates for NMC Licensing examination

First Examination: 2074 Sharwan 21 (05 August, 2017)
Second Examination: 2074 Mangsir 16 (2nd December, 2017)
Third Examination: 2074 Chaitra 17 (31st March 2018)
Dates for NMC Special Examination:

First Examination: 2074 Ashad 24, Saturday (8th July, 2017)
First Examination: 2074 Kartik 25, Saturday (11th July, 2017)
Second Examination: 2074 Falgun 26, saturday (10th March, 2018)
Application now open for Special Examination of 2074 Ashad 24.
Application form submission deadline: 2074 Jestha 9 to Ashad 7, 2074.
With late fee: 2074, Ashad 8 and 9.
Students have to fill the ONLINE APPLICATION FORM