Nepal Medical Council (NMC) has directed private colleges to cancel the admissions in the postgraduate (PG) studies taken against the set norms and rules. The private colleges had reportedly admitted the students at PG level in disregard of the merit list by charging fees in excess of the ceiling, according to the NMC.
In an statement issued by Nepal Medical Council (NMC), it said, " As the seats for MD, MS, MDS has already been allocated and Universities are in the process of enrolling students on the basis of merit and the determination of course is also in final stage, NMC has urged affiliated colleges to follow the rule/regulation of universities and honor merit during enrollment".
Colleges who have been found of neglecting the guidelines and enrolling students on price biding instead of merit are directed to stop such enrollment. If colleges continue with this practice, NMC has cleared that they NMC will not recognize such students.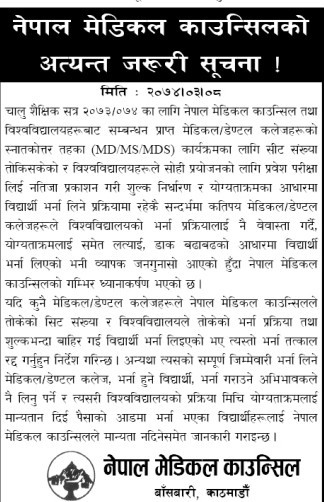 "So we have issued them a public notice to cancel all such illegal admissions," said Dr Dilip Sharma, registrar at the NMC. "NMC will not register the graduates admitted illegally by the colleges. Also PG holders will be automatically disqualified and barred from practising as specialists," he added. "The colleges and the guardians will be to blame."
For MD/MS/MDS studies, the medical colleges in the country have reportedly been demanding fees up to three times the ceiling fixed by the government. NMC officials said they have received complaints of colleges charging up to Rs 10 million for the PG courses. The Tribhuvan University has fixed Rs 3,099,396 as the fee for PG studies.
Medical colleges under the TU and Kathmandu University take in around 600 students for MD/MS/MDS courses annually. The medical colleges affiliated to the TU's Institute of Medicine (IOM) enroll around 170 MD/MS/MDS students every year. At present, the IOM, which has more than 100 seats for PG courses, has already administered the entrance tests.
Nearly 2,400 students had appeared in the entrance test taken by the IOM this year. In the past, the individual colleges used to admit the students after entrance tests. The IOM has already published this year's entrance results based on merit. A total of 1,925 examinees have been selected. The highest achiever has secured 85 marks.
Under the TU, the MD/MS classes are taught at the IOM, Universal College of Medical Sciences in Bhairahawa, People's Dental College at Nayabazaar in Kathmandu and National Medical College in Birgunj.
The KU has fixed Rs 2.25 million as fees for the MD/MS courses while the TU has fixed Rs 3,099,396 for the same courses. Sources NMC/Republica National daily