DANG : Perhaps, my mother would still watch my photo over and over. In my memory, perhaps, she would cry a river.
Kalpana Adhikari often sings this wistful lament of a child's longing for her mother before her classmates. Her poignant rendition never fails to make her listeners sad.
Most of the students at Martyrs' Memorial Boarding School in Tulsipur, Dang, can relate to Adhikari's song. Adhikari is among the 450 students who study and live at the school for the children orphaned during the decade-long Maoist insurgency.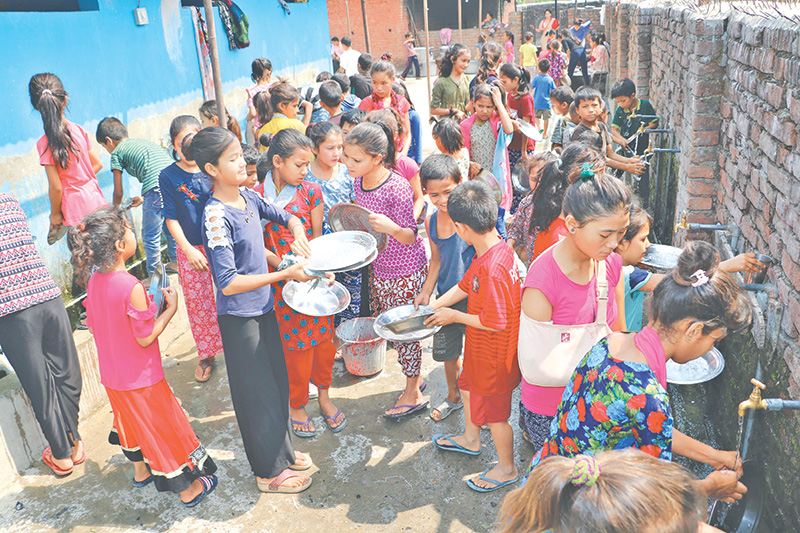 Students of Martyrs' Memorial Boarding School in Tulsipur, Dang, wash their plates after lunch.Post Photo: Durgalal kc

Adhikari, who is originally from Gothimula village in Bharta Rural Municipality-3, arrived at the school six years ago. Her father, Nainaraj, who was a Maoist functionary, was killed by the police in 2002.
When Adhikari was born, her father was already dead. Her mother, Pulki, remarried and Adhikari was sent off to live with her father's sister.
It was her aunt who admitted Adhikari to the school. Adhikari, who is currently in tenth grade, last saw her mother six years ago. She misses her. "I talk with her often on the phone and visit my hometown once a year, but since my mother is in a new house now, I don't feel comfortable going there," she says.
For Adhikari and the other children at Martyrs' Memorial Boarding School, their school is their home.
The school was originally established as the 'People's School' in 2066 BS by the Maoist party during wartime. It was one of many schools run by the Maoist party which, at the time, deemed all mainstream curriculum as 'bourgeois education' and taught its own curriculum befitting the ideology embraced by the party.
All such party-run schools were turned into 'Martyrs Memorial Schools' and adopted the curriculum of public schools after the peace deal.
Today, these schools are run with state funds. They offer free schooling and accommodation to children until grade twelve.
The school where Adhikari goes to has 261 boys and 189 girls.
While most of the senior students at the school are glad that they have the opportunity to complete high school education, they are also anxious about their future.
Principal Narayan Poudel says even though the students have been doing well at their studies, their future after the twelfth grade is uncertain.
"We cannot do anything about it because the government allocates budget for students only up to twelfth grade," says Poudel.
To help the students get jobs after completing their high school, the school is plans to introduce various skill-based subjects, but nothing concrete has come of it.
"Since the students don't have families to support them, many pass-outs from this school are working as labourers in India while others are jobless," Poudel says.
An uncertain future lies ahead of the students of Martyrs' Memorial Boarding School, unless the government comes up with a programme for the children orphaned by the war.
Seventh-grader Suwasti Buda dreams of becoming a doctor when she grows up, but deep down she knows that, with no one to support and guide her, even the chances of her going to college are rare, much less going to a medical school.
"Since we can't stay at the school forever, I don't know what will happen after I have graduated high school," she says.