Tribhuvan University (TU) has temporarily suspended the affiliation granted to Kathmandu National Medical College (KNMC), following widespread criticism against its decision.
A meeting of executive council of Tribhuvan University held on Saturday suspended the affiliation issued to the medical college for the time being. "Medical College's [Kathmandu National Medical College] affiliation has been suspended for now. We will take a further decision only after analyzing the technical and other aspects of the medical college," said TU Vice-chancellor Tirtha Raj Khaniya.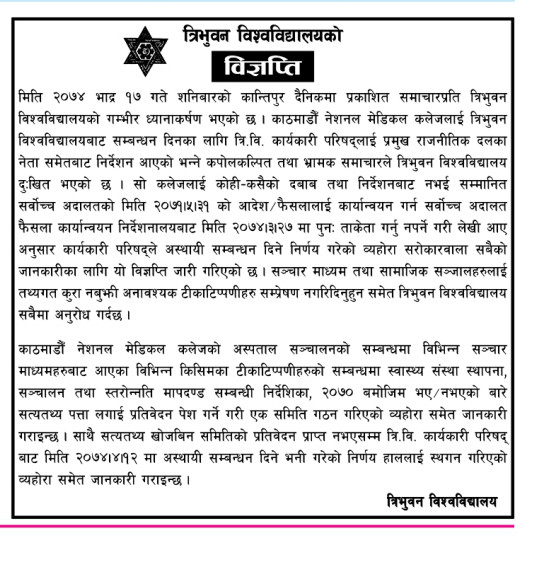 Press Release of Ministry of Education Nepal
काठमाडौं नेशनल मेडिकल कलेज प्रा.लि.ले त्रिभुवन विश्वविद्यालयबाट सम्बन्धन प्राप्त गरेको विषयक सञ्चार माध्यममा प्रकाशित/प्रशारित समाचारप्रति यस मन्त्रालयको ध्यानाकर्षण भएको छ । त्रिभुवन विश्वविद्यालयबाट काठमाडौं नेशनल मेडिकल कलेज प्रा.लि. लाई सम्बन्धन दिएको सम्बन्धमा यस मन्त्रालयसँग जोडिएर आएका समाचारका सम्बन्धमा वास्तविक तथ्यहरु यो विज्ञप्ति मार्फत सम्बन्धित सबैमा जानकारी गराइन्छ ।
त्रिभुवन विश्वविद्यालयबाट काठमाडौं नेशनल मेडिकल कलेज प्रा.लि. लाई सम्बन्धन प्रदान भएको समाचार विभिन्न संचार माध्यममा प्रकाशित भएपछि मात्र सो कुराको जानकारी यस मन्त्रालयलाई हुन आएको । तत्पश्चात् यस विषयका सम्बन्धमा माननीय उपप्रधानमन्त्री एवम् शिक्षा मन्त्रिज्यूबाट उक्त विश्वविद्यालयका उपकुलपतिज्यूलाई मन्त्रालयमा बोलाई विश्वविद्यालयबाट हाल भए गरेका निर्णयको औचित्य र सान्दर्भिकताका सम्बन्धमा जानकारी लिनुभएको,सो पश्चात् माननीय उपप्रधानमन्त्री एवम् शिक्षा मन्त्रिज्यूले विद्यमान अवस्थाको विश्लेषणका साथ प्रचलित कानून तथा मापदण्ड अनुसार उक्त निर्णय उपर तत्कालै समिक्षा गरी सर्वस्वीकार्य बनाउन आग्रह गर्नुभएको,सम्बन्धन दिनुपूर्व यस विषयमा माननीय उपप्रधानमन्त्री एवम् शिक्षा मन्त्रिज्यूसंग कुनै परामर्श नभएको र सम्बन्धन दिनका लागि त्रिभुवन विश्वविद्यालयलाई कुनै पनि किसिमको निर्देशन दिनुभएको छैन ।
(हरिप्रसाद लम्साल)
सहसचिव एवम् प्रवक्ता, शिक्षा मन्त्रालय
A meeting of the TU executive council Saturday, suspending the affiliation, formed a probe committee under the convenorship of Nepal Law Campus' professor Dr Sanat Devkota, to look into the matter, according to TU Vice Chancellor Dr Tirtharaj Khaniya.

The probe committee will look into the technical and professional aspects of the medical college. This three-member probe committee will present the report to the university's executive council within seven days. "Initially, we granted affiliation to the medical college without assessing the technical and professional aspects as we worked in accordance with the court verdict. Now, we will decide only after analyzing its overall infrastructures and human resources," said Khaniya.

TU administration has been criticized for grating affiliation to the controversial college. A building established as housing was developed as a medical college. Neither patients nor medical professionals were found in the medical college during a recent inspection by the media. VC Khaniya admitted his mistake to grant affiliation to the medical college without inspecting its situation on the ground. Khaniya claimed that the council was compelled to make the decision after the Judgement Execution Directorate of the Supreme Court repeatedly inquired about the implementation of the verdict of the court.
"Both the media and parliamentarians raised this issue and we have now suspended the previous decision to grant affiliation," said Khaniya adding, "We are now more concerned about the affiliation row."
The university's decision came immediately after Prime Minister Sher Bahadur Deuba instructed VC Khaniya and other officials to resolve the affiliation row immediately saying that granting affiliation to any medical college prior to the endorsement of the Health Profession Education Bill would be a violation of the agreement signed with Dr Govinda KC. "The prime minister had asked him [ Khaniya] to correct his mistake in granting affiliation to KNMC and he withdrew the decision," said Govinda Pariyar, media advisor to PM Deuba.
The university had granted affiliation to the college during Dr KC's 11th hunger strike although the hospital is said to lack the proper infrastructure, denouncing the cabinet decision and the decision of the Educational Council of Institute of Medicine (IOM) in 2013.
Source: Republica National daily