Tribhuvan University has issued a public notice and said it will take action to affiliating colleges if they are found recruiting teaching or administrative staffs without prior approval of University.
TU has been taking action against its professors only in the past but this time it has determined to take action against those affiliating colleges too, which are using university professors without formal permission.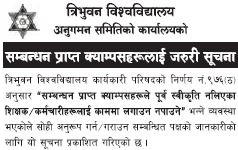 TU has always been criticised for not taking action against such 'helmet teachers' who run from college to college to teach.
The trend of teaching in numerous private colleges among university professors has increased of late.
Thus TU has decided to take action against such dishonest professors and private colleges that are seeking quality education from such professors.
At present, the professors are allowed to teach in private colleges after getting permission from the administration, making sure that the time in private colleges will not overlap with their shift in the TU constituent campus.