A high-level meeting of top leaders has asked Prof Dr Govinda KC to end his hunger strike.
Prime Minister Sher Bahadur Deuba, former prime ministers Pushpa Kamal Dahal 'Prachanda' and KP Sharma Oli, Deputy Prime Minister and Minister for Education Gopal Man Shrestha, Health Minister Giriraj Mani Pokharel and other leaders were present at the meeting.
A meeting of top leaders of three political parties held in Office of the Prime Minister and Ministers of Council today urged the agitating doctor to end his hunger strike stating that the spirit of Mathema Commission would be incorporated by passing the bill which is under discussion in the Legislature-Parliament.
Prof Dr KC is in fast-unto-death from July 24 putting forth different demands including bringing Medical Education Act soon and appointment of the assistant deans in the Institute of Medicine (IOM).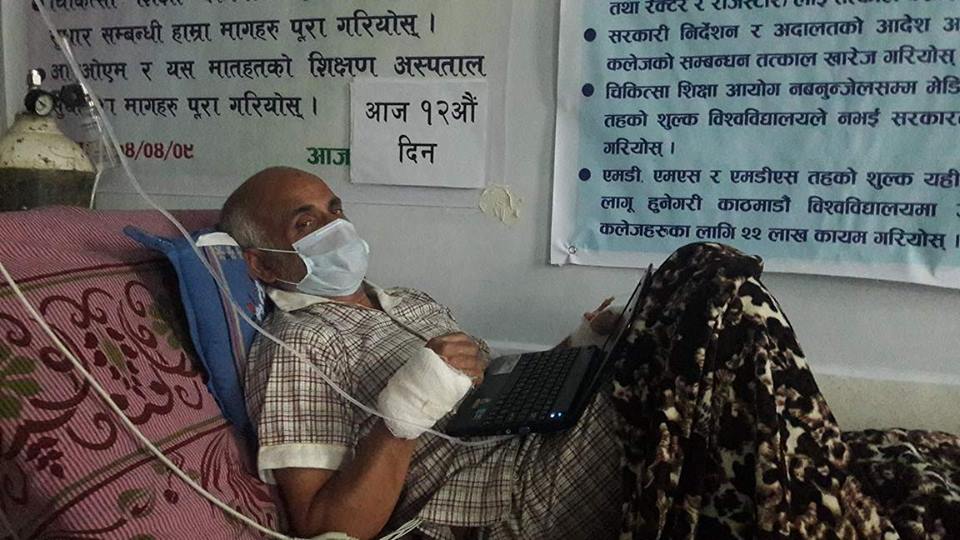 "Discussions about hunger strike's relevance and his (KC's) health status were discussed," coordinator of government talks team and Secretary at the Ministry of Education Shanta Bahadur Shrestha said.
Prime Minister himself summoned the meeting after the repeated talks between the government team and Dr KC yielded no result.
The Medical Education Bill has incorporated various issues including provision of not providing affiliation to college for new programmes of MBBS, BDS and Nursing in three districts of Kathmandu valley for 10 years, admission fee, exam system and merit list.
Similarly, arrangement of one government medical college in every provinces, loan for education, admission of students at the determined fee and admission on the basis of merit are also incorporated in the Bill.
Likewise, the Bill also incorporates that there should be a common curriculum of medical educational institutions, teaching other human qualities to doctors. RSS
Kathmandu, August 4; 1017